Welcome to the pleasuredome: How we evolved to love music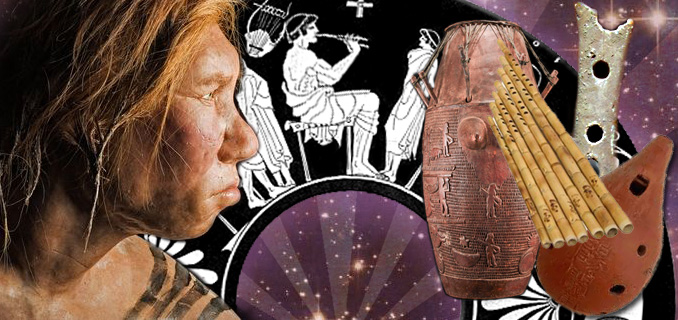 In 2008 at Hohle Fels, a Stone Age cave in Southern Germany, archaeologists discovered what is thought to be the oldest example of a man-made musical instrument: a vulture bone flute dating back to the period when ancestors of modern humans settled in the area (~40,000 years ago). This discovery suggests that our ancestors were probably grooving to their own beat long before this time – making music, arguably, one of the most ancient human cognitive traits.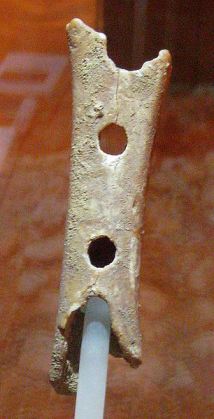 Part of an ancient cave bear femur flute discovered in Slovenia in 1995

This raises an interesting question: In a time before electric duvets and home pizza delivery, how and why did our ancestors find time to indulge in such a non-essential task as the creation of music?

This was a mystery contemplated by the father of evolution Charles Darwin. In The Descent of Man he questions why a skill which appears to provide no survival advantage should have evolved at all, stating "As neither the enjoyment nor the capacity of producing musical notes are faculties of the least direct use to man in reference to his ordinary habits of life, they must be ranked among the most mysterious with which he is endowed". However, in his autobiography he later suggests a solution to this mystery while reflecting on his own lack of musical appreciation, lamenting "If I had to live my life again, I would have made a rule to read some poetry and listen to some music at least once every week; for perhaps the parts of my brain now atrophied would thus have kept active through use. The loss of these tastes is a loss of happiness, and more probably to the moral character, by enfeebling the emotional part of our nature". Here Darwin seems to have stumbled upon a fact with which many of us would intuitively agree, the notion that music can enrich our life by generating and enhancing emotions. But can we find a biological basis for this assumption?

Do you hear what I hear? – How our brains process and store sounds and melodies:

Scientists believe that we are unique in the way our brains process sounds. Unlike other animals, the auditory centres of our brains are strongly interlinked with regions important for storing memories; meaning, we are very good at combining sounds experienced at different times. This ability may have been crucial for the evolution of complex verbal communication. For example, consider times when the meaning of a spoken sentence does not become apparent until the last word – we'd have a pretty hard time understanding each other if by the end of a sentence we had already forgotten how it started! This is a skill even our closest relatives appear to lack, and one which is necessary for development of both language and musical appreciation.

[...]

Read the full article at: thebrainbank.scienceblog.com




---
READ:
Is Your Taste In Music Influenced By The Shape Of Your Skull?
---
Tune into Red Ice Radio:
Danny Vendramini - Them & Us: Neanderthal Predation Theory
Stephen Mehler - Ancient Khemit (Egypt), From Light Into Darkness
Robert Newman - The Rise of the Modern Music Industry & the Enlightenment
Ezra Sandzer-Bell - Hidden Origins of Western Music & Synchromusic(k)ology
Graham Hancock - Entangled, Supernatural, Shamanism, The Origins of Consciousness & The Destiny of America
James Furia - Geomusic
Bob Frissell - Transitioning Into The 4th Dimension, Synthetic Consciousness & The MerKaBa
Michael Cremo - Forbidden Archeology & Human Devolution
---
Radio 3Fourteen:
Deeper Minded Music - Part 1
Deeper Minded Music - Part 2
Matt Presti - Dr. Walter Russell: Seed of the Cosmic Man
Mark Devlin - Music of the Control System