'With friends like these ...'
Allegations that the Israeli secret service, Mossad, was behind the killing of Hamas commander Mahmoud al-Mabhouh in Dubai are gaining strength.

The accusation originated with Hamas after the 49-year-old was found dead in a hotel in Dubai last month.

Israel, unsurprisingly, has neither confirmed nor denied that Mossad operatives carried out the killing.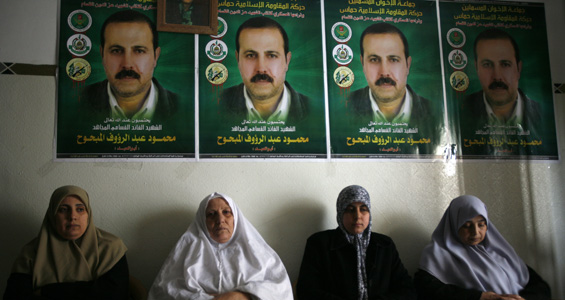 Relatives sit beneath posters of Mahmoud al-Mabhouh [EPA]


The Times newspaper, however, has reported Ehud Olmert, the former Israeli prime minister, alluding to "Mossad ... waging a covert war of assassinations across the Middle East, targeting Hamas and Iranian officials".

Foreign passports
Dubai's chief of police has now said that 11 people were involved in the operation and they all used European - including six British - passports to get into and out of the Emirate.

It is known that Mossad uses foreign passports "regularly" because Israeli passports raise "red flags" when its operatives are travelling.

An Israeli passport is still unacceptable in most of the Arab capitals and a visa is unlikely to be granted to holders of Israeli passports seeking to enter Dubai - one exception was for an Israeli tennis player taking part in a Dubai tournament last year.

If Mossad's involvement is proven to be true, it is yet another example of Israel's disregard for the sovereignty of other nations - including supposed "strategic allies" like Britain.

There is no record of US passports ever being used in such operations - Israel tends to spy on its main benefactor instead.

In 1996, when Khaled Meshaal, the head of Hamas' political bureau, was the target of an assassination attempt in Amman, the Mossad team responsible was captured and they had used genuine Canadian passports to enter Jordan.

'Stategic allies'

What is doubly interesting about that attempt on Meshaal's life is that it took place during Binyamin Netanyahu's first term as Israeli prime minister.

Assassinations tailed off in the intervening years but have now resurfaced as a serious tactic against Israel's opponents, again while Netanyahu is at the helm of Israel's government.

The trail to find those responsible for al-Mabhouh's killing could therefore lead all the way to Netanyahu himself.

If that is the case, then it surely raises questions about Britain's relationship with the country called a "strategic ally" by David Miliband, the UK's foreign secretary, when he raised the possibility of changing Britain's universal jurisdiction obligations to make it possible for Israelis suspected of committing war crimes to enter the UK.

The foreign office says that it is "in contact with the Dubai authorities" about the identity of the six British passport holders.

A former Mossad agent quoted in The Times claims that passports used in such operations include those belonging to real dual nationality holders while others are "acquired".

Passports 'forged'

According to the Daily Telegraph newspaper British government "sources" believe that the passports were forged and were used by "Mossad agents".

In a bizarre twist, reports are coming from the Middle East about Hamas claims that two men belonging to the Palestinian Authority's security agencies have been captured by Jordan and sent to Dubai in connection with this murder.

The PA has made a counter-claim that the two are actually Hamas members.

The world of espionage has always been murky and it may well be that we will never know what really happened in the hotel room where Mahmoud al-Mabhouh was murdered.

However, there surely is sufficient doubt for the British government to review its dealings with the Israeli government, "strategic ally" or not.

With friends like these, who needs enemies?

Article from: AlJazeera.net


Video from: YouTube.com


Video from: YouTube.com