Woman visited by police after researching pressure cookers online
Long Island resident said her web search history and 'trying to learn how to cook lentils' prompted a visit from authorities
A New York woman says her family's interest in the purchase of pressure cookers and backpacks led to a home visit by six police investigators demanding information about her job, her husband's ancestry and the preparation of quinoa.

Michele Catalano, who lives in Long Island, New York, said her web searches for pressure cookers, her husband's hunt for backpacks, and her "news junkie" son's craving for information on the Boston bombings had combined somewhere in the internet ether to create a "perfect storm of terrorism profiling".

Members of what she described as a "joint terrorism task force" descended on Catalano's home on Wednesday.

Catalano was at work, but her husband was sitting in the living room as the police arrived. She retold the experience in a post on Medium.com on Thursday. She attributed the raid largely to her ongoing hunt for a pressure cooker, an item used devastatingly by the two Tsarnaev brothers in Boston, but also used by millions across the country to prepare vegetables while retaining most of their nutrients.

Catalano, a writer for indie music and politics magazine Death and Taxes wrote:

What happened was this: At about 9:00 am, my husband, who happened to be home yesterday, was sitting in the living room with our two dogs when he heard a couple of cars pull up outside. He looked out the window and saw three black SUVs in front of our house; two at the curb in front and one pulled up behind my husband's Jeep in the driveway, as if to block him from leaving.

Six gentleman in casual clothes emerged from the vehicles and spread out as they walked toward the house, two toward the backyard on one side, two on the other side, two toward the front door.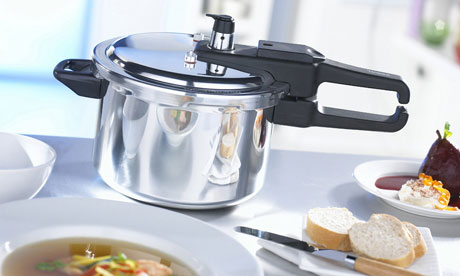 "What the hell is quinoa?" police asked when Catalano's husband


[...]

Read the full article at: guardian.co.uk