Woolly mammoth with flowing blood found for first time, Russian scientists claim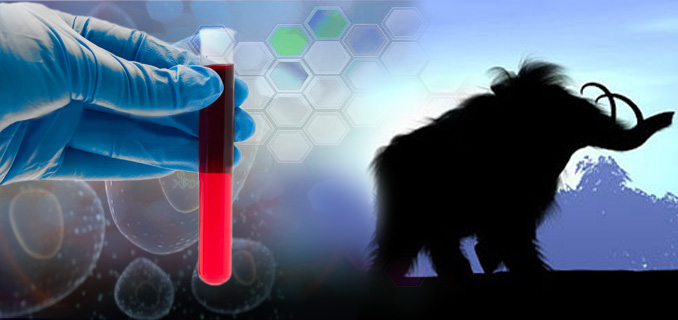 A preserved fully-grown woolly mammoth with flowing blood has been found for the first time, trapped in the Siberian ice, scientists have said.

Russian scientists made the discoveries during the excavation of a 50-60-year-old female animal on the Lyakhovsky Islands, in the Arctic seas of the country's north-east.

Woolly mammoths, which look similar to elephants, are thought to have died out between 10,000 and 4,000 years ago.

Previous discoveries of well-preserved woolly mammoth remains have resulted in some scientists raising the possibility of Jurassic Park-style cloning of the animals.

'We were really surprised to find mammoth blood and muscle tissue,' scientist Semyon Grigoriev told the Siberian Times.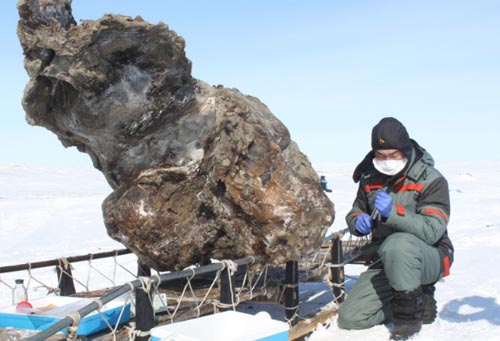 A researcher working near the carcass of the woolly mammoth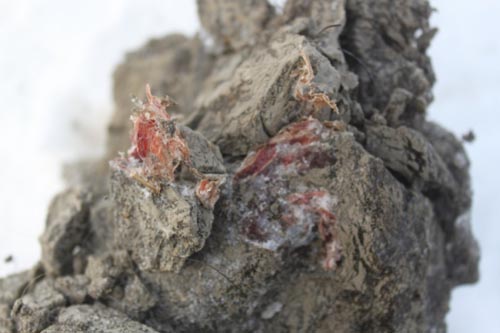 A sample of well preserved muscle tissue they found in a carcass of a female mammoth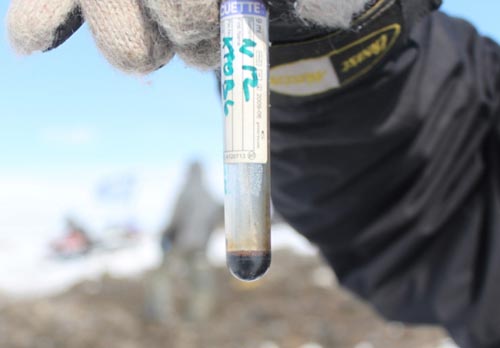 A test tube with what scientists said was a sample of well preserved blood they found


The head of the Museum of Mammoths of the Institute of Applied Ecology of the North at the North Eastern Federal University said the finding was unique.

He said: 'It is the first time we managed to obtain mammoth blood. No-one has ever seen before how the mammoth's blood flows'.

'The approximate age of this animal is about 10,000 years old. It has been preserved thanks to the special conditions, due to the fact that it did not defrost and then freeze again.

'We suppose that the mammoth fell into water or got bogged down in a swamp, could not free herself and died.

'Due to this fact the lower part of the body, including the lower jaw, and tongue tissue, was preserved very well.

'The upper torso and two legs, which were in the soil, were gnawed by prehistoric and modern predators and almost did not survive.'

Despite this, he hailed it as 'the best preserved mammoth in the history of palaeontology'.

When the blood flowed from ice cavities below the belly of the animal the temperature was 10C below zero and it was placed in a test tube and sent for analysis.

'Yet it is great luck that the blood preserved and we plan to study it carefully,' said Mr Grigoriev.

'For now our suspicion is that mammoth blood contains a kind of natural anti-freeze.'

[...]

Read the full article at: metro.co.uk




---
"Mammoth Find" reported by RT:
"We are the first in the world to find the carcass of an adult female mammoth. Now she, along with the bones and some ice, weighs about one ton. We assume that during life she weighed about three tons," he acknowledged.
The head of the museum also suggested that the mammoth lived from 10,000 to 15,000 years ago.
Scientists have suggested that perhaps the animal fell through the ice, escaping from predators. However, its thought the predators still feasted on part of trapped mammoth.

Foreign experts are expected to see the unique mammoth material in July, according to reports.

Three adult mammoth carcasses, including the latest discovery of the Yakut scientists, have been found in the history of paleontology. However, despite such a good state of preservation, the scientists have not yet found enough living cells for cloning the species. Grigoriev noted that the repair of DNA is a very complex process that can take years.
The latest discovery and its research heralds the possibility of bringing the animal back to life in the future, though there is a lot of controversy around the issue of cloning.

A team of researchers from Russia and South Korea in September 2012 said they had discovered mammoth tissue fragments buried under meters of permafrost in eastern Siberia that could contain living cells. However the number of cells was too few to achieve successful cloning and the issue was treated with skepticism by many stem cell scientists.

Mammoths are believed to have died off around 4,000 years ago. There is dispute among scientists about the exact cause of the extinction - climate change and hunting by man are frequently cited as causes. Source
---
Investigating Baby Mammoth - National Geographic 2009