Woolwich Terror aftermath: Home Secretary Theresa May threatens online ban
Red Ice Creations Note: Problem Reaction Solution? As the public relinquishes online rights in the name of 'safety from radicalization' by a reactionary (or manipulative) government after each 'terror event', soon there will be no internet freedoms at all, nor any power with which to reverse the situation.
There have been reports of Woolwich Slasher Michael Adebolajo connections to MI5 . If Adebolajo was 'groomed' by the agency, and he wasn't turned extremist by online sources, then no ban is justified.




---
Radical Islamist groups which whip up hatred but do not advocate violence could be outlawed in the UK for the first time, under an attempt to curb the spread of hardline ideology being considered by the Government following the Woolwich murder.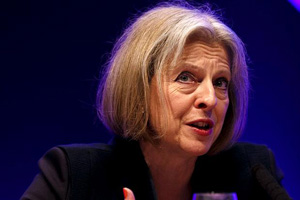 Theresa May, the Home Secretary, warned that there were thousands of people judged to be at risk of being radicalised as she set out moves to deprive hardliners of platforms for their views. They include plans to ban more organisations accused of fomenting division and to tighten the rules on their access to the internet, as well as the revival of plans for a "snooper's charter".

But the moves threaten to provoke a freedom-of-speech row as organisations which stop short of advocating terrorism could be banned under the proposals, which will be considered by a Whitehall task force headed by David Cameron.

At the moment, the Home Secretary has the legal power to proscribe an organisation linked to terrorism, such as al-Muhajiroun, which was outlawed in Britain in 2010.

But she has no authority to act against organisations suspected of "inciting hatred and division" and ministers will consider introducing a lower threshold enabling her to act, Whitehall sources said.

However, ministers could run into problems producing a legally watertight definition of "hatred and division". The difficulties in this area are underlined by the controversy over the group Hizb ut-Tahrir. Mr Cameron called for its proscription six years ago, but it remains active and high profile.

[...]

She said "all the indications" pointed to a lone wolf-style incident rather than a wider planned operation.

Asked if she believed there were thousands at risk of radicalisation in the UK, she replied: "Potentially."

Read the full article at: independent.co.uk

Read: British Ministers Call For Mass Government Snooping In Wake Of Woolwich Attack