Youth at War During the Middle Ages, and The Children's Crusades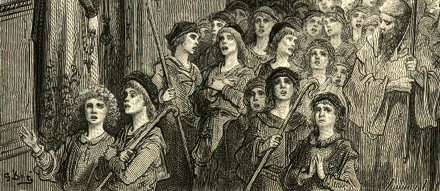 ---
Teenagers at War During the Middle Ages
By Kelly DeVries | Medievalists

Early in 1212 a young man from western Germany, whose name has come down through history only as Nicholas, became the focal point of an attempted military endeavour against the Muslims in the Holy Land. Sweeping through the Rhineland, the fervour for participation grew with such vigour that more than a thousand like him joined the endeavour. They were fearless, willing to leave the comforts of their homes and families to travel thousands of miles and fight enemies whose different religion compelled them to make the journey. Because of their relative youth, this `crusade' has become known historically as the `Children's Crusade.'

More than a century later, late in the afternoon of 26 August 1340, a young man stood firm in his position. It was important that he not show fear at what he was about to encounter. He was obviously rich, with a noble and brave demeanour the result of years of training in military arts. He was well armed and well armoured. He was also young and fear must have crossed his heart. No doubt he thought about the role he was to play in ensuing events, for he was in command of the most vulnerable spot on the battlefield, the central position of the middle of three solid defensive lines. Although only a teenager, a mere sixteen years old, Edward, Prince of Wales, later to be known as the Black Prince, was about to engage the French army at Crecy.

[...]

Read the full article at: medievalists.net




---
READ:
The Children's Crusade - Wikipedia
---

From History Learning Site:

Not a great deal is known about the Children's Crusade other than it was a disaster. The person who seemed to be in charge was a boy called Stephen of Cloyes. We know very little about him. We know that he was a shepherd and that in 1212 he was 12 years of age. With a peasant's background, he would not have been able to read or write and at his age he would have done very basic work around a farm.

In May 1212, it is said that he turned up at the court of King Philip of France and told him that he had a letter from Christ ordering him to organise a crusade. Not surprisingly, King Philip was not impressed by the 12 year old and told him to go away and come back when he was older!!

Regardless of this rejection, Stephen went around preaching to children about his letter from Jesus and his desire to go to the Holy Land to capture Jerusalem. He told his followers that crossing the Mediterranean or any other waterways was easy as the waters would part and they would walk across as they were protected by God. By June 1212, Stephen is said to have gathered 30,000 followers around him - all children.

As they marched south through France, they clearly had no idea of what to expect. Adults cheered them along the route. It was as if their innocence shone through and made their success a certainty.

The Roman Catholic Church was not so sure. [...]
---

From Lords And Ladies:

The Childrens Crusade marked the decline of the Crusades

This remarkable spectacle of the children's crusade affords the most striking exhibition possible of the ignorance, superstition, and fanaticism that characterized the period. Yet we cannot but reverence the holy enthusiasm of an age that could make such sacrifices of innocence and helplessness in obedience to what was believed to be the will of God. The children's expedition marked at once the culmination and the decline of the crusading movement. The fanatic zeal that inspired the first crusaders was already dying out. "These children," said the Pope, referring to the young crusaders, "reproach us with having fallen asleep, whilst they were flying to the assistance of the Holy Land."
---

The Children's Crusade a Questionable Myth?

HistoryHouse.com writes:

Believe it or not? Don't

Great story. Too bad it didn't really happen. To understand why we don't think so, we're going to have to give a little lesson on medieval history and why it's so hard to do. [...]

So if local chronicles are so unreliable, how do we decide what really happened? The ones written soon after the event were tiny little snippets. There are three contemporary accounts of the French movement, and these pretty much say a large group of vagabonds were roaming the countryside. Whole narratives of what actually went down didn't show up until at least fifty years later,[6] time enough for imaginations to get active. The account by Alberic of Troisfontaines, by far the most complete, was actually written by two guys over the span of sixty years, starting in 1232 and ending in 1295. The work covers all kinds of things; lots of them have nothing to do with this story. Was the Children's Crusade part written by the first guy or the second? Was it written soon after or years later? Nobody really knows.

What does seem to be true is that there was a large group of folks in France wandering the countryside the summer of 1212, possibly with banners and such so as to appear as a Crusade. But none of the contemporary chroniclers wanted to call it one, so maybe it wasn't. Alberic called it one, but should we believe him? Historian D.C. Munro noted no chroniclers in northern France say anything about an expedition headed towards Marseilles, and none south of the Loire saw anybody at all. Could it be that 30,000 people wandered around down there unnoticed? Was it really a crusade? Did they actually make it to Marseilles? As nobody seems to have seen them in Marseilles until Alberic got around to writing about it decades later, we don't think so.

Sort of Like Touring with the Dead

So, then, what were 30,000 people doing roaming the countryside in the first place? Europe was advancing towards a cash economy, which had all sorts of repercussions. One of them was that folks who didn't own land hated life and were virtually unmarriageable. 30,000 young men roaming the countryside aimlessly with nowhere to go but up[7] makes a lot more sense to us than a group of eight-year-olds trying to rescue the Holy Land. To further cement the case that these were mostly young men and not little children, historian George Duby notes the Latin word used to describe the "crusaders" was puer, which can alternately be translated as "boy" or "young man of low social standing": perhaps later chroniclers mistranslated it.