5.2 quake kills 10, topples buildings in Spain (Mediterranean Quake as Predicted?) (Video)
5.2 quake kills 10, topples buildings in Spain


By Jorge Guerrero | YahooNews.ca / AFP


Video from: YouTube.com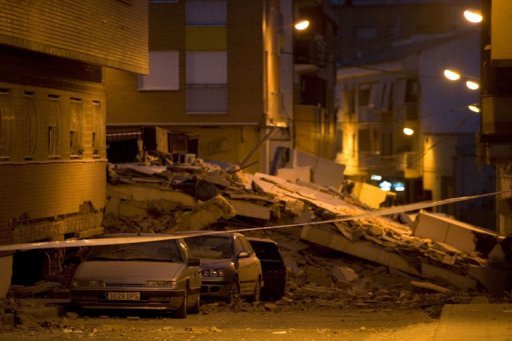 A view of cars crashed by debris from a collapsed building in Lorca, southern Spain after a magnitude 5.2 quake killed at least 10 people.



A magnitude 5.1 quake killed at least 10 people in southern Spain on Wednesday, sending buildings crashing down as panicked residents fled for their lives.

Ten people perished in the deadliest tremor in Spain in more than five decades, officials said.


Video from: YouTube.com

The quake collapsed fronts of buildings in the southeastern town of Lorca and ripped huge gaps into walls, which slumped into the streets.
Witnesses reported many injuries.

A church clocktower smashed to the ground and narrowly missed one television reporter as he conducted an interview in the town on Spanish public broadcaster TVE. A bronze bell lay in the rubble.

Television images showed shaken families and children gathering in squares and playgrounds in the town, some weeping and hugging as they sought safety. Masonry and rubble blanketed streets. A corpse lay in the street covered in a rescue blanket.

A line of parked cars lay crushed under tonnes of rubble, photos published in the online edition of El Mundo showed.

The tremor struck at 6:47 pm (1647 GMT) with a depth of 10 kilometres (six miles) and could be felt as far away as the capital Madrid. It hit nearly two hours after a smaller 4.4-magnitude quake.

Ironically, it struck on the same day many residents stayed away from work in the Italian capital Rome fearing a supposed prophecy of a devastating tremor made by a self-taught Italian seismologist who died in 1979.
A doctor said many people had been hurt in the Spanish quake.

Read the full article at: ca.news.yahoo.com


---
Amazing coincidence or prophecy proven?
Romans gripped by fear of quake forecast for May 11

For months Italian internet sites, blogs and social networks have been debating the work of Raffaele Bendandi, who claimed to have forecast numerous earthquakes and, according to internet rumours, predicted a "big one" in Rome on May 11.

The national television network RAI has run programmes aimed at calming rising panic among Romans. The civil protection agency has issued statements reiterating the official scientific view that earthquakes can't be predicted.

Yet many residents of the Eternal City aren't listening.

"I'm going to tell the boss I've got a medical appointment and take the day off," barman Fabio Mengarelli told Reuters. "If I have to die I want to die with my wife and kids, and masses of people will do the same as me."


[...]


A. Lorca, Spain, location of 5.2 earthquake, May 11, 2011,
B. Rome, Italy, location of predicted earthquake for May 11, 2011 by Raffaele Bendandi.
Is this too close to be a coincidence?
Image: Google Earth
"Bendandi, who died in 1979 aged 86, believed earthquakes were the result of the combined movements of the planets, the moon and the sun and were perfectly predictable."


Does this new event give weight to Bendandi's claims?

"According to the London Telegraph, Bendandi has been correct in previous predictions. He made front-page headlines after he predicted the 1915 Avezzano earthquake, which caused 30,000 deaths. His forecast was off by two days and it struck the region of Le Marche."
Source

The 11th of the month has been making a bad name for itself. Not only did 9/11 unfold on the 11th day of the month, so did the Madrid train bombings on March 11, 2004. The Japanese 2011 Tōhoku earthquake and tsunami occurred on March 11, 2011.
The 7.0 Haiti Earthquake of 2010 missed the date by hours, devastating the country on the 12th of January.

May 11, 12: Most Significant Alignment for 2011 (Video)
"This Planetary Alignment Watch shows a massive three way alignment involving 6 planets, plus the sun and the moon!"



Video from: YouTube.com

~E