Afghan President Karzai's half-brother "killed by Taliban"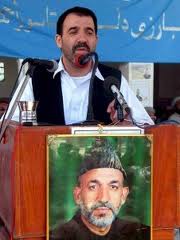 The Taliban is claiming responsibility for the slaying of President Hamid Karzai's half brother, the most powerful man in southern Afghanistan and a lightning rod for criticism of corruption in the government.

Ahmed Wali Karzai, the head of the Kandahar provincial council, was shot to death while receiving guests at his home in Kandahar, the capital of the province that was the birthplace of the Taliban movement and was the site of a recent U.S.-led offensive.

His death leaves a dangerous power vacuum in the south just as the government has begun peace talks with insurgents ahead of a U.S. withdrawal.

Tooryalai Wesa, the provincial governor of Kandahar, identified the assassin as Sardar Mohammad and said he was a close, "trustworthy" person who had gone to Wali Karzai's house to get him to sign some papers.

As Wali Karzai was signing the papers, the assassin "took out a pistol and shot him with two bullets -- one in the forehead and one in the chest," Wesa said. "Another patriot to the Afghan nation was martyred by the enemies of Afghanistan."

The killing coincided with a visit to the capital, Kabul, by French President Nicolas Sarkozy.

"This morning my younger brother Ahmed Wali Karzai was murdered in his home," the Afghan president said during a joint news conference with Sarkozy. "Such is the life of Afghanistan's people. In the houses of the people of Afghanistan, each of us is suffering and our hope is, God willing, to remove this suffering from the people of Afghanistan and implement peace and stability."

The Taliban claimed responsibility for the assassination at the heavily guarded house, hidden behind 2.5 metre blast walls. The Interior Ministry said an investigation was under way.

Wali Karzai, who was in his 50s and had survived several previous assassination attempts, was seen by many as a political liability for the Karzai government after a series of allegations, including that he was on the CIA payroll and involved in drug trafficking. He denied the charges.

The president repeatedly challenged his accusers to show him evidence of his sibling's wrongdoing, but said nobody ever could.

Wali Karzai remained a key power broker in the south, helping shore up his family's interests in the Taliban's southern heartland, which has been the site of numerous offensives by U.S., coalition and Afghan troops to root out insurgents.

Article from: cbc.ca


---



Video from: YouTube.com


---



Wali Karzai: Drugs baron, CIA agent or Afghan defender?


From: Tribune.com.pk

Ahmed Wali Karzai, the Afghan president's assassinated younger brother, was either a drugs baron, a CIA agent or a fierce defender of the Afghan people, depending on who you listen to.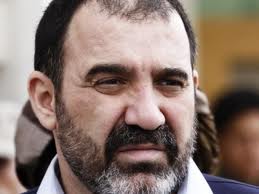 What is beyond dispute is that he was a deeply controversial figure and a warlord who commanded tremendous power over Kandahar, one of the most restive provinces of the war-torn country and the spiritual home of the Taliban.

The son of a well-to-do political family from an influential Pashtun tribe, the Popalzai, he headed the provincial council in Kandahar for seven years, but his real power extended far beyond his title and he widely considered to control all commercial and political dealings in the area.

On Wednesday he was buried in his family's village of Karz, just south of the city where his powerbase lay, a day after he was shot dead in his home by the head of his own personal protection force.

His powerful role necessitated regular talks with American forces waging a counterinsurgency in the key Taliban battleground, and media reports said he had been working as a CIA go-between for years.

But leaked cables released last year revealed true US feelings about the president's half-brother, who was long dogged by claims of unsavoury links with the lucrative opium trade and private security firms.

After one meeting with US envoy Frank Ruggiero in September 2009, the American diplomat said of Karzai, known by the acronym "AWK": "While we must deal with AWK as the head of the provincial council, he is widely understood to be corrupt and a narcotics trafficker."

He always flamboyantly denied the mass of allegations against him, including that he ran private militias, and claimed he escaped an assassination attempt in 2009.

After the WikiLeaks debacle he told Tolo television: "Dear brother! First of all, I've no security company… If one is able to show one single contract under my name, I'll take all responsibility for all against myself."

The New York Times reported in 2009 that the younger Karzai had been on the CIA payroll for most of the previous eight years for services that included fielding recruits for an Afghan paramilitary operating under CIA direction.

The newspaper reported that he helped the CIA contact and sometimes meet Taliban followers. As with most allegations levelled against him in the Western press, Karzai wasted no time denying the report.

Aged 49 and the youngest of six boys and a girl, Wali Karzai shared the same father as his presidential brother Hamid but had a different mother.
He studied at one of Kabul's most prestigious schools, the Habibia High School, and after pro-communist forces took power in 1978 he went to live in Chicago, where he managed a branch of the family restaurant.

In the mid-1990s, he left behind two of his brothers in the United States to join his father and Hamid in Quetta, in southwestern Pakistan, where they were organising an anti-Taliban resistance.

Since the 2001 US-led invasion toppled the Taliban and installed Hamid as president, Wali Karzai "gradually built a powerful empire in Kandahar through the support of foreign backers and by bringing under his influence the province's key commercial, military and contracting networks", wrote Carl Forsberg, author of a key report on the southern province.

But his influence and family ties to the key battleground divided opinion among residents and foreign forces fighting the war in the south.

"He was viewed by many as an obstacle to change and progress in the south — by others as the most important figure in terms of bringing security," said Candace Rondeaux, Afghanistan analyst for the International Crisis Group.

"He may have had more enemies than friends in the end," she said.
Wali Karzai was a father of four. His youngest child, a boy, was born just three months ago, said a family member.

Article from: tribune.com.pk