Airport body scanners 'may be unlawful'
The use of airport body scanners in the UK may be unlawful, the Equality and Human Rights Commission has warned.

Scanners already in place at Heathrow and Manchester Airports may be breaking discrimination law as well as breaching passengers' rights to privacy, it said.

It has now written a letter to Transport Secretary Lord Adonis.

The government said security concerns meant scanners had been needed immediately, but it was carrying out an equalities impact assessment.

The scanners are being introduced in response to the alleged attempt to blow up an American plane on 25 December.

But the commission said it had "serious doubts" that the decision to roll them out in UK airports was legal.

It said one of its chief concerns was over how people would be selected for the scans.

'Vulnerable groups'

Its chairman, Trevor Phillips, said: "The right to life is the ultimate human right and we support the government's review of security policies.


"Given the current security threat level, we believe it was essential to start introducing scanners immediately "
~Department for Transport spokesperson

"State action like border checks, stop-and-search and full body scanning are undertaken for good reasons.

"But, without proper care, such policies can end up being applied in ways which do discriminate against vulnerable groups or harm good community relations."

Liberal Democrat home affairs spokesman Chris Huhne MP agreed.
He said: "The government seems intent on pressing ahead with the use of body scanners without addressing any of the privacy concerns and safeguard issues raised by the Liberal Democrats and others.

"The commission is right to suggest that security measures cannot simply be introduced without due respect for the rule of law."

Code of practice

The commission has previously said scanners could breach an individual's right to privacy under the Human Rights Act.

It has also previously written to the home secretary to ask that he set out in detail the justification for bringing in the scanners, and clarify what safeguards will be put in place.

They produce "naked" images of passengers, and the commission then said it was concerned especially for the privacy of certain groups such as disabled people, the elderly, children and the transgendered community.
The Department for Transport said it had published a staff code of practice for the scanners.

A spokesperson said passengers who were randomly selected for screening would not be chosen because of any personal characteristics.
"Given the current security threat level, we believe it was essential to start introducing scanners immediately.

"We are currently carrying out a full equalities impact assessment on the code of practice, which will be published shortly when we begin a public consultation on these issues."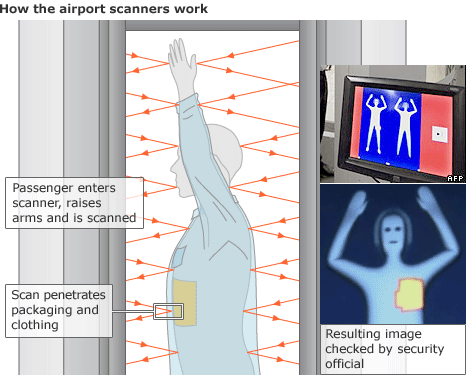 Article from: News.BBC.co.uk