Ancient Mayan workshop for astronomers discovered
Astronomical records key to Mayan calendar, which has gotten some attention recently because of doomsday warnings that it predicts the end of the world this December.

Archaeologists have found a small room in Mayan ruins where royal scribes apparently used walls like a blackboard to keep track of astronomical records and the society's intricate calendar some 1,200 years ago.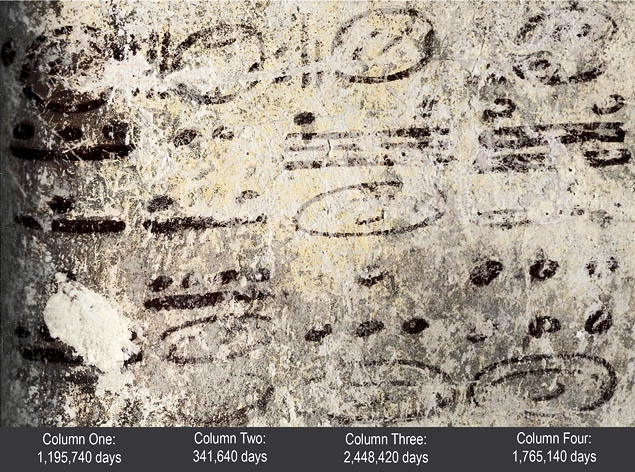 This undated image made available by National Geographic shows four long numbers on the north wall of a ruined house related to the Maya calendar and computations about the moon, sun and possibly Venus and Mars; the dates stretch some 7,000 years into the future. William Saturno/via AP


The walls reveal the oldest known astronomical tables from the Maya. Scientists already knew they must have been keeping such records at that time, but until now the oldest known examples dated from about 600 years later.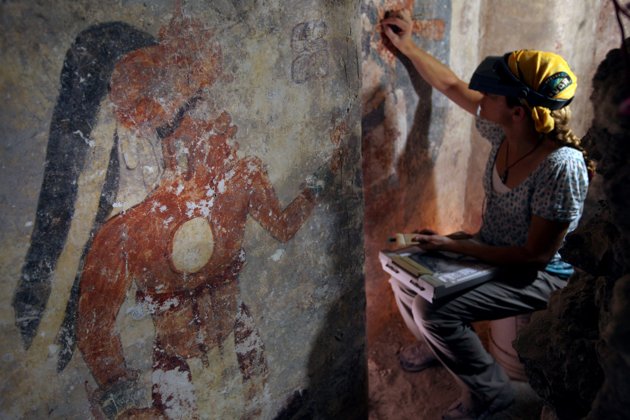 Conservator Angelyn Bass cleans and stabilizes the surface of a wall of a Maya house that dates to the 9th century A.D. in the Maya city Zultun in northeastern Guatemala. (AP Photo/National Geographic, Tyrone Turner)


Astronomical records were key to the Mayan calendar, which has gotten some attention recently because of doomsday warnings that it predicts the end of the world this December. Experts say it makes no such prediction. The new finding provides a bit of backup: The calculations include a time span longer than 6,000 years that could extend well beyond 2012.

"Why would they go into those numbers if the world is going to come to an end this year?" observed Anthony Aveni of Colgate University in Hamilton, N.Y., an expert on Mayan astronomy. "You could say a number that big at least suggests that time marches on."

[...]

"'What you have here is astronomy driven by religion," he said.

On an adjacent wall are numbers indicating four time spans from roughly 935 to 6,700 years. It's not clear what they represent, but maybe the scribes were doing calculations that combined observations from important astronomical events like the movements of Mars, Venus and the moon, the researchers said.

[...]

Read the full article at: nydailynews.com