Ancient Murder Mystery? Stone Age Bodies Discovered in Well
More than 8,000 years ago, a 19-year-old woman and a slightly older man fell — or were they pushed? — into a well. Archaeologists have now uncovered the remains, revealing a Stone Age mystery.

No one knows whether the couple fell into the well by accident or whether foul play was involved, but archaeologists say the choice of final resting place closed the water source for good.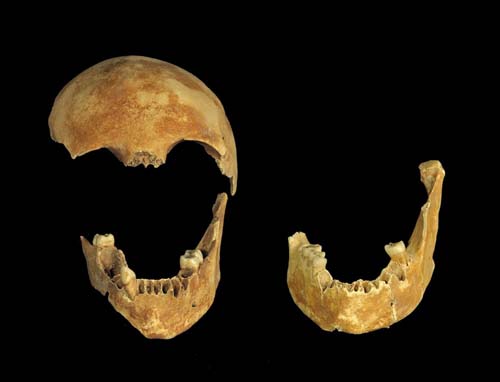 A skull exposed during the excavation of an 8,500-year-old well in Israel. Archaeologists don't know how two people ended up at the bottom of the well.


"What is clear is that after these unknown individuals fell into the well, it was no longer used for the simple reason that the well water was contaminated and was no longer potable," Toyam Tepper, the excavation director for the Israel Antiquities Authority, said in a statement.

The well sits along the western Jezreel Valley near the settlement of Enot Nisanit in Israel. It dates back 8,500 years to the Neolithic or last part of the Stone Age. The builders of the well would have been the first farmers of the Jezreel Valley, Tepper said.

A well this old is a rare find, archaeologists added.

"Wells from this period are unique finds in the archaeology of Israel, and probably also in the prehistoric world in general," Omri Barzilai, head of the Israel Antiquities Authority prehistory branch, said in a statement.

The two oldest wells ever found are both from Cyprus, Barzilai said, and date back to the beginning of animal domestication, about 1,000 years older than the newly discovered well. Apparently, he said, early herders and farmers developed wells as a way to prevent their livestock from lapping up the precious drinking water.

The well is about 26 feet (8 meters) deep, with a top made of stone and a bottom sunk into the bedrock. At its mouth, the well is about 4 feet (1.3 m) wide.

The two skeletons weren't the only artifacts inside the wall. Archaeologists also found flint blades used for harvesting, stone arrowheads and other tools. Over the centuries, animals' bones and charcoal accumulated in the closed well, remnants that will help researchers date the structure more precisely.

"The well that was exposed in the Jezreel Valley reflects the impressive quarrying ability of the site's ancient inhabitants and the extensive knowledge they possessed regarding the local hydrology and geology, which enabled them to quarry the limestone bedrock down to the level of the water table," Tepper said. "No doubt the quarrying of the well was a community effort that lasted a long time."

Article from: livescience.com