Anti-Virus Millionaire John McAfee Accuses Employees Of Conspiracy To Frame Him For Murder
The antivirus millionaire John McAfee, who is on the run from police in Belize after he was accused of shooting dead his neighbour, has now claimed two of his employees conspired to kill him.

McAfee is a suspect in the killing of Gregory Faull, a retired American builder, who was shot on 11 November on the island of Ambergris Caye.

The former software mogul previously said that he hid from police in a hole in the ground while they searched his house, and has since described in detail the complex disguises he used to evade authorities in the days after the killing.

He has also given interviews to various publications, in which he denied the murder and offered a reward for evidence that could clear his name.

In his latest blog on the website 'Who Is McAfee?', the now-retired millionaire accused two of his employees of conspiring to kill him and frame him for murder.

He posted a transcript of what he said was a conversation between two employees, discussing a complex revenge plot involving local police.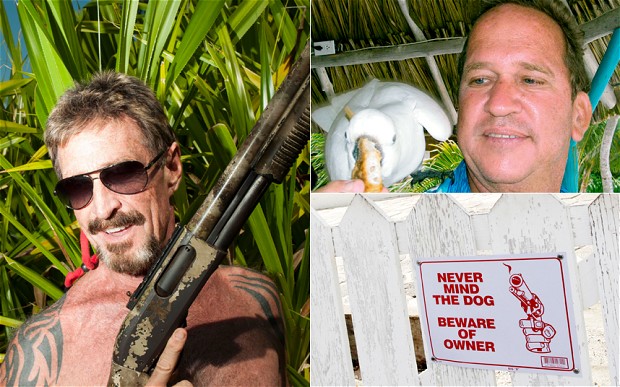 Mr McAfee, left, is wanted by police for questioning. Mr Faull, right, was shot dead a week ago.



[...]

Read the full article at: huffingtonpost.co.uk





---
---
Mr McAfee, who lived in a $1.5 million beachside villa on the island of Ambergris Caye off the Belize coast, has repeatedly denied shooting dead his neighbour.

Officials say the poisoning of four of Mr McAfee's dogs may be linked to the murder of Faull, who lived down the beach.

Mr McAfee's creation of a jungle laboratory, supposedly to research natural antibiotics, and acquisition of numerous guns to protect himself led to suspicions about his activities and a raid by the Belizean Gang Suppression Unit (GSU) in April of this year.

"They claimed I had a big meth lab on my property – that's the most absurd thing," he told the Guardian. "The GSU has abused hundreds of people in this country abominably. I'm just one of those people and they've abused me far less than they've abused others."

CNN also reports that McAfee lived with a group of young women who are his lovers, and that although he has not been seen since he left his home after Mr Faull's murder on November 14 he is regularly in touch.

Mr McAfee also hit out at Joshua Davis, a freelance journalist writing for Wired magazine, in three seprate blogposts, claiming the writer misrepresented him in articles and an e-book after spending months together before the millionaire went into hiding.

He wrote: "These are a tiny fragment of the evidence that I gave to Josh as a reason for my apparent paranoia. At no point in his story were any of these things mentioned.

"Instead photos of me carrying a shotgun while half-naked appeared everywhere. If you truly believe that I wander my property half naked while carrying a shotgun, well, then I have no hope of reaching you."
Source: Telegraph.co.uk