Baltic Crusades Caused Extinctions, End to Pagan Practices
The Baltic Crusades left major ecological and cultural scars on medieval pagan villages, and new archaeological evidence shows the campaign caused deforestation, pushed species to extinction and may have even ended a pagan practice of eating dogs.

From the 12th century to the 16th century, a group of a Germanic Christian knights known as the Teutonic Order waged war against pagans, who viewed much of nature as sacred, in what is today Poland, Lithuania, Latvia, Estonia, Belarus and parts of Sweden and Russia. An archaeological and anthropological team, led by Stanford University researcher Krish Seetah, has been piecing together the changes that took place during this period, with an emphasis on the crusaders' use of wildlife.

"Underlying war was the use of animals for war," Seetah said in a statement. And some of the project's findings show how the Teutonic Order owed the success of its conquest in part to its horses, which were much larger than the ones used by the pagans. The researchers are also comparing food preparation across cultures, through an analysis of processing tools and cut marks on animal bones.

"We see a difference between food cultures in how animals are processed," Seetah added. "Pagan groups did it differently from the Germanic Teutonic Order."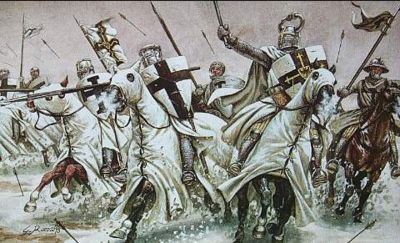 Some of the team's preliminary research shows that the Baltic pagans ate wild dogs, but stopped doing so after the onset of the Teutonic conquest, reflecting the invaders' tastes. And the Christian crusaders' utilitarian view of nature and reliance on animals likely prompted the extinction of some species, such the aurochs, an ancestor to today's cattle, which rapidly disappeared after the invasion. Moreover, building Teutonic castles required clearing vast expanses of forest, leading to deforestation in parts of the region.

"Within a few centuries, the Teutonic warriors led a major ecological and cultural transformation that swept the pagan Baltic tribes into the fold of European Christendom," according to a statement by Stanford University.

The findings are detailed in a news article published in the Nov. 30 issue of the journal Science.

Article from: livescience.com