Banana's Genes Unpeeled: Will It Help Save the Banana?
The long-awaited sequencing of the banana genome might help save the yellow fruit from imminent collapse.

Bananas are a staple food around the world. But the humble yellow fruit faces pests and diseases that threaten to wipe it out across the globe, from convenience stores in Iowa to rural markets in Uganda.

In an effort to save bananas from imminent demise, scientists have now sequenced the banana genome for the first time, a challenging feat and a major advance in the field.

The accomplishment opens the way for developing better banana crops that are naturally resilient against parasites and other stresses.

"The banana is very important, especially for tropical and subtropical countries," said Angélique D'Hont, a geneticist at CIRAD, an agricultural research center in Montpelier, France. "Because the future of the banana is in danger, the sequence will help to produce resistant bananas and avoid the utilization of pesticides. It will be much easier now to identify genes which are important."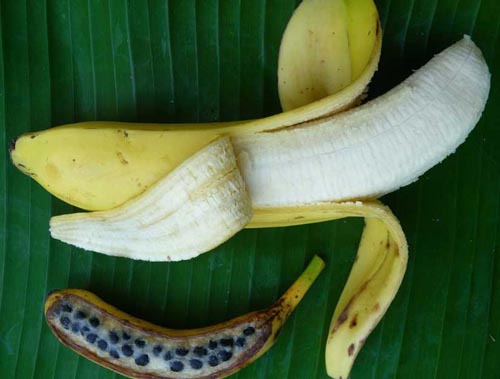 A commercial dessert banana from the seedless Cavendish cultivar in comparison with a typical banana from a wild fertile ancestor such as the one that as been sequenced.



Bananas were first domesticated 7,000 years ago in Southeast Asia. As people migrated, and crossed their own plants with other species along the way, bananas gradually became seedless, delicious and totally sterile.

Instead of multiplying through sexual reproduction, which mixes up the gene pool, bananas are cultivated through vegetative propagation, which involves simply cutting off a section of one plant to grow on its own. It's the same process used to grow several other major African crops, including cassava, sweet potatoes and yams.

As a result, every single Cavendish banana -- the variety that makes up about half of all bananas eaten around the world -- is an exact clone of every other Cavendish banana.

The shape, color and flavor of these popular fruits are predictable and consistent. But parasites and diseases have adapted to the Cavendish, D'Hont said, making it necessary to use large amounts of pesticides to keep banana crops from collapsing -- up to 50 applications a year in some places.

[...]

Read the full article at: discovery.com





---
Do You Want A Banana?