Brain Implants to Enhance Our Senses?


Red Ice Creations:. Beyond the obvious ethical arguments about fashioning a neo-human or real 'super' man, the following article "Brain Implant Could Enhance Our Senses" supposes that the brain might function with a tsunami of sense-data washing over it to one day "feel touch through prosthetic limbs, see heat via infrared light or even develop a sixth sense for magnetic north."

Some people naturally suffer from sensory over-stimulation. They have "nervous systems and minds which permit more stimulation to enter without automatically and unconsciously shutting it out, and further, that they then cognitively process the stimulation that they receive in more detail than others do". (Source) These people, who have NOT had brain implants, can suffer from the resulting depression, anxiety, and ill health.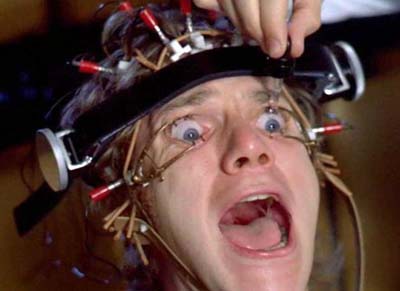 Interestingly the opposite condition - sensory deprivation, can also be damaging to our mental health. Take for example the 'quietest room on earth'; The Orfield Laboratory anechoic chamber in the United States is a soundproof room which contains such complete silence that if you're in it for a small while the mind soon begins to hallucinate.

Further, who would control such brain implants? If they're used for administering pulses to treat epilepsy or depression, can't they also be used to create false memories or train the brain to think a certain way?

In the end, with an implant to become 'more' than human by increasing our senses artificially, the question needs to be asked; Would our brains be able to deal with increased levels of over or under-stimulation - the "expanded sensory repertoire"? Like the lab rats, would we adapt to survive the cacophony of sensory information poured into our brains?

With all our digital devices these days acting like full-time sensory stimulation machines, the experts all seem to echo one idea: it's not so good for us.

By Red Ice Creations




---



Brain Implant Could Enhance Our Senses


By Melinda Wenner Moyer | ScientificAmerican

Our world is determined by the limits of our five senses. We can't hear pitches that are too high or low, nor can we see ultraviolet or infrared light—even though these phenomena are not fundamentally different from the sounds and sights that our ears and eyes can detect. But what if it were possible to widen our sensory boundaries beyond the physical limitations of our anatomy? In a study published recently in Nature Communications, scientists used brain implants to teach rats to "see" infrared light, which they usually find invisible. The implications are tremendous: if the brain is so flexible it can learn to process novel sensory signals, people could one day feel touch through prosthetic limbs, see heat via infrared light or even develop a sixth sense for magnetic north.

Miguel Nicolelis, a neurobiologist at Duke University, and his colleagues trained six rats to poke their nose inside a port when the LED light above it lit up. Then the researchers surgically attached infrared cameras to the rats' head and wired the cameras to electrodes they implanted into the rats' primary somatosensory cortex, a brain region responsible for sensory processing. When the camera detected infrared light, it stimulated the animals' whisker neurons. The stimulation became stronger the closer the rats got to the infrared light or the more they turned their head toward it, just as brain activation responds to light seen by the eyes. Then the scientists let the animals loose in their chambers, this time using infrared light instead of LEDs to signal the ports the rats should visit.

At first, none of the rats used the infrared signals. But after about 26 days of practice, all six had learned how to use the once invisible light to find the right ports. Even after months of doing so, the rodents were able to respond to whisker neuron stimulation in addition to the infrared light, which suggests that sensory neurons can, when necessary, respond to multiple types of cues. This approach could help scientists create "sensory channels" for prosthetics users that provide constant sensory feedback to and from artificial limbs, facilitating control. The findings also suggest that the human brain can handle an expanded sensory repertoire—that we might one day be able to see, hear, touch and smell what we now cannot.

Article from: scientificamerican.com





---
Tune into Red Ice Radio:
David Icke - Limitations of Belief & Awakening
Kevin Warwick - I, Cyborg, Implants, Cybernetics, AI & The Rise of the Machines in 2020
Seth Farber & Paul Levy - Hour 1 - The Spiritual Gift of Madness
Gary Biltcliffe - The Etruscans, The Mysterious Pelasgi, The Spirit of Portland & The Spine of Albion
Susan Joy Rennison - A New Cosmic Age, Space Weather & Cosmic Radiation