Criticism in China of failure to report vicious school attack on same day as Newtown massacre
23 children were wounded by knife-wielding assailant, and it barely made the news.

Chinese state media's failure to properly report an attack on a school in central China — on the same day as last week's Newtown massacre in Connecticut — is sparking online criticism of official media, with commentators asking why the lives and well-being of Chinese children did not merit prominent coverage.

State news outlets gave extensive coverage of the Newtown shooting on December 14, but hardly referred to a crazed attacker's rampage at a school in Henan the same day, in which 23 children were hurt.

"On the same day as the US shooting, 23 children were slashed at the school in Henan, but mainstream media were virtually mute on this. Are the lives of Chinese children worthless to them?" Reuters quoted one blogger as protesting, in what it said was one of many such posts.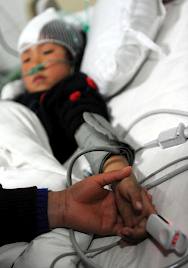 It said that China Digital Times, a website following social and political developments in China and run by the University of California, was reporting that the Chinese government's central propaganda department ordered all official media to downplay the Henan attack.

Even the Xinyang Daily, whose circulation area includes the school, devoted a Page 1 story on Monday to lauding the local education system without mentioning the attack.

Chinese officials now say the assailant was "psychologically affected" by doomsday predictions.

Min Yongjun is suspected of going into an elderly woman's house Friday morning and stabbing her with a kitchen knife. He then allegedly went to a nearby elementary school in Chenpeng village and injured 23 children before being stopped by teachers and police.

He was arrested on suspicion of jeopardizing public security.

A statement from the Guangshan county government said initial investigations found that he was strongly affected by "doomsday rumors."

Some people believe the Mayan calendar predicts an apocalypse this Friday.

Chinese police have released surveillance video of the stabbing spree.

[...]

Read the full article at: timesofisrael.com