Dead as a Doornail? Death is the ultimate binary condition
Black or white. Alive or dead. Right?

In reality death is not well defined and the definition of death has changed substantially over time.

H.P Lovecraft famously wrote, "That is not dead which can eternal lie. Yet with strange aeons even death may die." This amounts to a pretty good summary of our current philosophical understanding of death. Death is simply the condition wherein you can not be brought back to life. If you can be brought back, then you weren't really dead.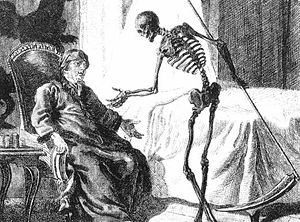 The Stanford Encyclopedia of Philosophy provides us a few examples of more nuanced definitions, for example one might suggest that death is "the irreversible cessation of organismic functioning" or the " irreversible loss of personhood." These amount to circular definitions that really don't tell us anything specific about how to decide when someone is dead. What is "organismic functioning" and how do we know when it is happening? Personhood is of course mostly a legal definition pertaining to rights which are terminated upon death. But if you are brought back to life, you weren't really dead.

And we've been burying people alive for a long time.

According to Wikipedia, "A safety coffin or security coffin is a coffin fitted with a mechanism to prevent premature burial or allow the occupant to signal that they have been buried alive. A large number of designs for safety coffins were patented during the 18th and 19th centuries and variations on the idea are still available today." During epidemics some people would fall into coma and appear to be dead. Methods for determining when someone was dead where however crude at best.

For example, in 1899 a law was introduced in New York state requiring all mortuaries to maintain a room where apparently dead people were to be "kept for a certain time" to help prevent premature burial. If you woke up during this time you weren't dead. Determination of death consisted of simply waiting to see if the person spontaneously woke up. Of course the method was far from foolproof so safety coffins were developed to allow people that were mistakenly buried alive to call for help and escape.

But things are not much better today. How does a doctor decide when you are actually dead?

It has been known since antiquity that some people will present as if they are dead, but later will awaken. This can result from injury or disease. Throughout history various measures have been used to determine when a person was truly dead therefore. Initially tests for responsiveness such as yanking on the person's nipples. Tobacco smoke enemas were also used for this purpose. The idea was of course advanced with the invention of the stethoscope such that person's with very weak heartbeats could now be determined to still be alive. Previously, many people were treated as if they were dead while their heart still beat. But for a long time death was associated with the cessation of the audible beating of the heart and breathing.

Further developments included the ECG or EKG for measuring the heart's electrical activity. The definition of death became the well known "flatline." But with the development of defibrillators cessation of heart activity alone could not be a sufficient basis to diagnosis death. Since some people's heart's could be restarted, doctor's had to require that the heart remain stopped and could not be restarted for some period of time. Further developments allowed for measurement of activity in the brain via the EEG. This led to the modern view which is to look instead at the activity in the brain not the heart. We now know that people with entirely non-functional hearts can be kept alive for extended periods of time. So the brain is the right place to look, but the brain is complex and what exactly constitutes death in the brain is correspondingly unclear.

[...]

Read the full article at: hplusmagazine.com