Did Paleolithic Cave Painters Use Drugs to Create Geometric Designs from the "Biologically Embodied Mind"?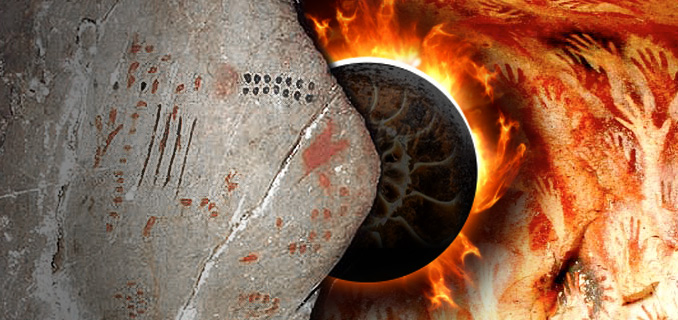 Science finds evidence of biological-hallucinogenic basis for seeing geometric patterns.

Prehistoric cave paintings across the continents have similar geometric patterns not because early humans were learning to draw like Paleolithic pre-schoolers, but because they were high on drugs, and their brains—like ours—have a biological predisposition to "see" certain patterns, especially during consciousness altering states.

This thesis—that humanity's earliest artists were not just reeling due to mind-altering activities, but deliberately sought those elevated states and gave greater meaning to those common visions—is the contention of a new paper by an international research team.

Their thesis intriguingly explores the "biologically embodied mind," which they contend gave rise to similarities in Paleolithic art across the continents dating back 40,000 years, and can also be seen in the body painting patterns dating back even further, according to recent archeological discoveries.

At its core, this theory challenges the long-held notion that the earliest art and artists were merely trying to draw the external world. Instead, it sees cave art as a deliberate mix of rituals inducing altered states for participants, coupled with brain chemistry that elicits certain visual patterns for humanity's early chroniclers.

[...]

Read the full article at: alternet.org




---



Why Should We Care about the Geometric Signs?


By Genevieve von Petzinger | BradshawFoundation

Initial findings from the study of 146 French rock art sites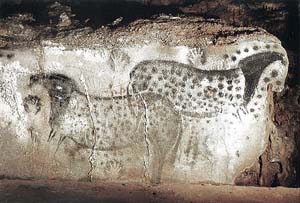 When the topic of rock art from Ice Age Europe is mentioned, the first thing that comes to mind for most people is the spectacular animal imagery. Whether it is the bulls of Altamira, the 'Chinese' horses of Lascaux, the mammoths of Rouffignac or the rhino and lion paintings at Chauvet, Paleolithic art and animals are tightly intertwined. The artistic mastery shown in the rendering of the animals cannot be denied, but what about all the geometric signs that so often appear around or near the animals at the same sites?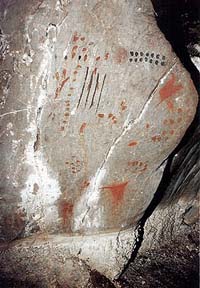 I was an undergraduate student when I first learned that the geometric signs outnumbered the animal and human imagery at most sites by a ratio of 2:1 or greater (Bahn & Vertut 1997: 166). From that moment onwards I was completely fascinated.

I believe that the abstract nature of these signs is some of the best proof we currently have that these images were not being made purely for their aesthetic quality. It suggests a more symbolic role for these markings, and a desire to communicate ideas that were not necessarily easy to depict in a physical form.

Without a doubt the figurative art is visually appealing, but I wanted to know why our ancestors were doing it, and was there any kind of discernible pattern to how it was being used? While animal depictions are a common theme in most known regions where rock art is present, the choice of what to portray seems to be contextual, with image-makers generally choosing contemporary fauna from their local environment (Rice and Paterson 1986; Clottes 1996). Geometric signs, on the other hand, are non-figurative to begin with, and while it is reasonable to assume that the meaning may very well have changed over time and space, there is no need to change the shape of something that is already abstract.

What Andre Leroi-Gourhan considered to be the "most fascinating area of Paleolithic art" (1979: 350) has tended to be overlooked in favour of the more visually impacting paintings and engravings of animals and humans. The meaning of these symbols is unclear and identification is difficult. This has led to their study being overshadowed by the artistic implications inherent in the figurative depictions. While my initial examination found a great deal of variety among non-figurative sign types, there also appeared to be a surprising degree of continuity, both spatial and temporal.

When I started this research, I discovered that there had not been any large-scale work done on looking at the connections between the geometric signs at different sites or on asking questions such as "are we seeing repetition and continuity which would imply that these representations were not random, and were instead being chosen from within a limited number of options?"

[...]

Read the full article at: bradshawfoundation.com





---
Tune into Red Ice Radio:
Harry Hubbard - The Illinois Mystery Cave
Josh Reeves - The Lost Secrets of Ancient America
Michael Cremo - Forbidden Archeology & Human Devolution
Jan Irvin - Gordon Wasson & The Secret History of Magic Mushrooms
Richard Merrick - The Venus Blueprint, Psychoacoustical Temples & Entheogenic Communion
Mitch Schultz - The Spirit Molecule
Rick Strassman - DMT: The Spirit Molecule, Inner Paths to Outer Space & The Soul of Prophecy
Graham Hancock - Entangled, Supernatural, Shamanism, The Origins of Consciousness & The Destiny of America
Ross Hamilton, Jim Vieira & Hugh Newman - Giants, Mound Builders & Etheric Energy
Ibrahim Karim & Pier Paolo Alberghini - Hour 1 - BioGeometry
Randall Carlson - Cosmic Patterns & Sacred Architecture