Did this ancient site experience a catastrophic end?
Tiwanaku, or Tiahuanaco in Spanish, is a ruined citadel occupying almost 10 square kilometers in the Bolivian Andes at an altitude greater than 3800 meters. Carbon-14 dating methods suggest that the site is no more than 3700 years old. However, as previous Picture of the Day articles discuss, radiometric dating is, at best, an unreliable system for establishing age.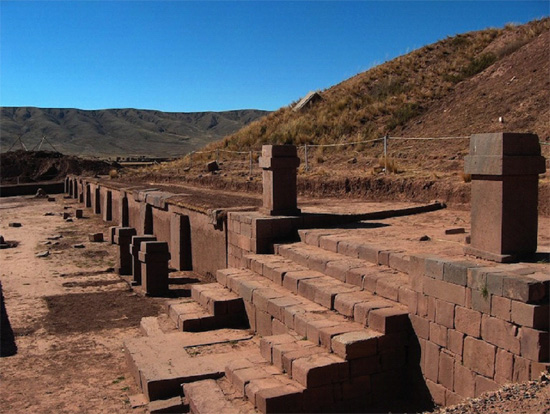 Reconstructed ruins of Tiwanaku in Bolivia.


According to the book, Tiahuanaco, The Cradle of American Man by University of La Paz Professor Arthur Posnansky, Tiwanaku is closer to 17,000 years old, perhaps one of the oldest surviving human habitations on Earth.

Posnansky based his estimate on the alignment of the Kalasasaya temple stones. "Kalasasaya" means "standing stones" and refers to the large stone pylons apparently aligned deliberately around a central courtyard. The current temple is a reconstruction and does not reflect the original architecture that the pre-Incan inhabitants intended. There was no wall between the standing stones as there is today.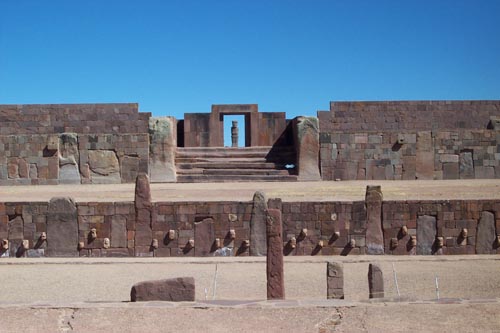 Many ancient civilizations used astronomical alignments in their structures. Norse burial mounds were made with apertures that allowed a shaft of sunlight to shine into their deepest recesses on only one particular day of the year: usually the winter solstice. The inhabitants of Chaco Canyon built rock buttresses with slots in them set up so that a beam of sunlight could pierce the heart of a chiseled spiral petrogram on the summer solstice. The walls of many Chaco Canyon buildings are also lined up with the sunrise and sunset on specific days of the year.

Posnansky's research over several decades showed him that the alignments in Tiwanaku were offset from what should have been "true" positions. Instead of being sited to the south, some of them were slightly offset to the southwest. According to Posnansky, that offset indicated that the site lines were from a time when the stones were aligned with true south.

Earth's poles are tilted with respect to the plane of the Solar System, creating an angle called the "obliqueness of the ecliptic". The present tilt is 23 degrees and 17 minutes. According to consensus astronomers, it does not always remain so. Our axis supposedly oscillates between two extremes: from 22 degrees and 1 minute to 24 degrees and 5 minutes. This oscillation cycle is said to require 41,000 years. Posnansky's alignment data was checked by several astronomers who concluded that the temple stones were set up when Earth's axis was tilted at 23 degrees, 8 minutes, 48 seconds, indicating a timeframe of approximately 17,000 years ago.

There is another explanation for the offset alignments. Rather than an oscillation of Earth's axis, our poles could have experienced a one-time displacement as a result of some momentous episode in the recent past. Some of the strange anomalies that exist in the Tiwanaku region might be explained by such an Earthshaking catastrophe.

Tiwanaku's location is problematic when it comes to living conditions. It is a scorched desert in the summer months, while it is bitterly cold in the winter. Common food crops cannot be grown in the present environment. How did the native population sustain itself? How did they manage to live there while they erected the megalithic structures built from stones weighing hundreds of tons?

[...]

Read the full article at: thunderbolts.info




---
Tune into Red Ice Radio:
Edmund Marriage - Global Catastrophe, Restart of Civilization & The Anu-Nagi (The Shining Ones)
Randall Carlson - Hour 1 - Cycles of Catastrophe & Cosmic Patterns
Freddy Silva - Ancient Sacred Sites, Invisible Temples, Giants & Our Ancestors
David Flynn - The Giant's Geoglyphs of Tiahuanaco
Hugh Newman - Global Earth Energies & Lake Titicaca
Maria Wheatley - Hour 1 - Geodetic System of Earth Energies and Ley Lines
Josh Reeves - Hour 1 - The Lost Secrets of Ancient America
David Talbott - Lightning Scarred Planet Mars & The Electric Sun