Earthquake hits Turkey, up to 1,000 possibly killed
A powerful earthquake which shook southeast Turkey on Sunday may have killed up to a 1,000 people as it triggered the collapse of dozens of buildings across the region, media reported the Kandilli Observatory as saying.

Emergency workers battled to rescue people trapped in buildings in the city of Van and surrounding districts on the banks of Lake Van, near Turkey's border with Iran.

Some 10 buildings collapsed in Van city and about 25-30 buildings were brought to the ground in the nearby district of Ercis, Deputy Prime Minister Besir Atalay told reporters.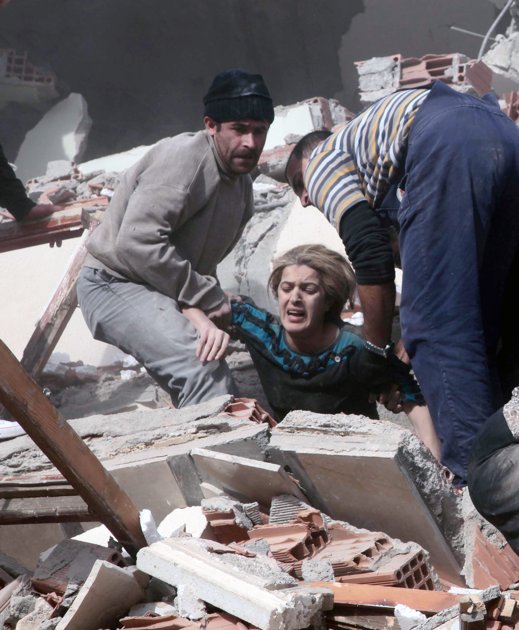 People rescue a woman trapped under debris after a powerful 7.2-magnitude earthquake struck eastern Turkey, collapsing about 45 buildings in Van province, Sunday, Oct. 23, 2011 according to the deputy Turkish prime minister. Only one death was immediately confirmed, but scientists estimated that up to 1,000 people could have been killed. The worst damage was caused to the town of Ercis, in the mountainous eastern province of Van, close to the Iranian border. ( AP Photo/ Ali Ihsan Ozturk, Aatolia)


"We estimate around 1,000 buildings are damaged and our estimate is for hundreds of lives lost. It could be 500 or 1,000," Kandilli Observatory general manager Mustafa Erdik told a news conference.

Prime Minister Tayyip Erdogan was traveling to Van and the cabinet was expected to discuss the quake at a meeting called for Monday morning.
"A lot of buildings collapsed, many people were killed, but we don't know the number. We are waiting for emergency help, it's very urgent," Zulfukar Arapoglu, the mayor of Ercis, told news broadcaster NTV.

Cihan news agency said 30 had been killed in Ercis district.

"We need tents urgently and rescue teams. We don't have any ambulances, and we only have one hospital. We have many killed and injured," he said.

Turkey's Red Crescent said one of its local teams was helping to rescue people from a student residence in Ercis. It said it was sending tents, blankets and food to the region.

More than 20 aftershocks shook the area, further unsettling residents who ran out on the streets when the initial strong quake struck. Television pictures showed rooms shaking and furniture falling to the ground as people ran from one building.

Dozens of emergency workers and locals crawled over a multi-storey building in Van as they searched for any people trapped in side.
Elsewhere, vehicles lay crushed by falling masonry in the street while dazed-looking people wandered past.

Some 50 injured people had been taken to hospital in Van, state-run Anatolian news agency reported, but it did not give details on how serious their injuries were.

The Kandilli Observatory, which initially cited a magnitude of 6.6, said the earthquake struck at 1041 GMT (6:41 a.m. EDT) and was 5 km (3 miles) deep. The U.S. Geological Survey earlier reported that the magnitude was 7.6.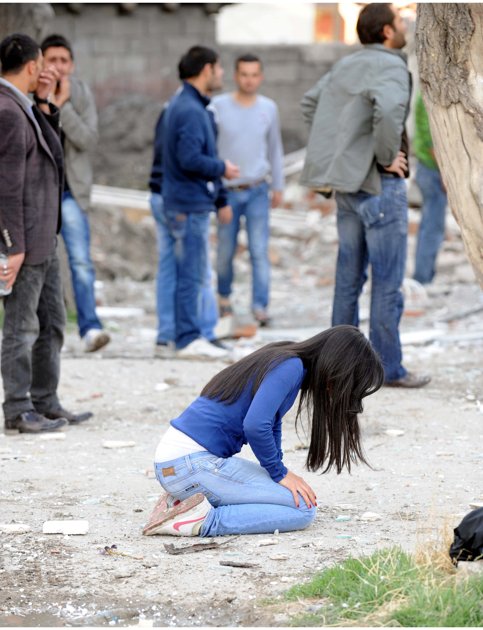 ( AP Photo/ Abdurrahman Antakyali, Anatolia)



[...]

Read the full article at: news.yahoo.com

Photos


---



Video from: YouTube.com


Video from: YouTube.com