Egypt's Mubarak sentenced to life in prison
Hosni Mubarak was sentenced to life in prison Saturday for failing to stop the killing of protesters during the uprising that ousted him, offering his opponents a measure of justice. But he and his two sons were acquitted of corruption in a verdict that did not satisfy public demands for accountability after what the chief judge called 30 years of "darkness" under the old regime.

The mixed ruling set off street protests and by nightfall, a large crowd of up to 10,000 was back in Cairo's Tahrir Square, the birthplace of the uprising, to vent anger over the acquittals. Similar protesters were held in other cities, including the Mediterranean port city of Alexandria and Suez on the Red Sea.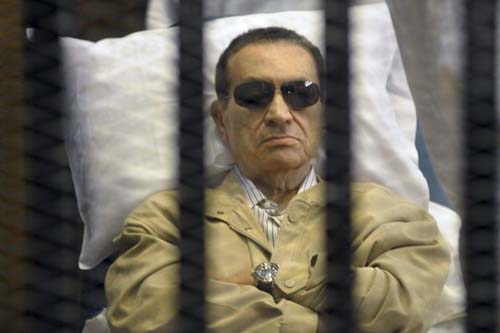 Egypt's ex-President Hosni Mubarak lays on a gurney inside a barred cage in the police academy courthouse in Cairo, Egypt, Saturday, June 2, 2012. (AP Photo)



"Justice was not served," said Ramadan Ahmed, whose son was killed on Jan. 28, the bloodiest day of last year's uprising. "This is a sham," he said outside the courthouse.

Protesters chanted: "A farce a farce, this trial is a farce" and "The people want execution of the murderer."

Mubarak, 84, and his ex-security chief Habib el-Adly were both convicted of complicity in the killings of some 900 protesters and received life sentences. Six top police commanders were acquitted of the same charge with chief Judge Ahmed Rifaat saying there was a lack of concrete evidence.

That absolved the only other representatives of Mubarak's hated security forces aside from el-Adly. It was a stark reminder that though the head has been removed, the body of the reviled security apparatus is largely untouched by genuine reform or purges since Mubarak was ousted 15 months ago.

[...]

Read the full article at: news.yahoo.com