EU Stasi to Patrol Internet for Politcal Enemies Opposed to "European Integration"
During a speech in 2006, Soviet dissident Vladimir Bukovksy referred to classified documents held by the Politburo and the Central Committee. The confidential documents spelled out a plan to turn Europe into a totalitarian super-state.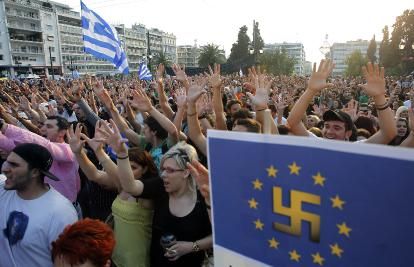 EU moving the scour internet of its political enemies.

In 1989, during a visit by a Trilateral Commission delegation sent to convince Mikhail Gorbachev to turn Russia over to globalist loan sharks at the World Bank and IMF, the former French president Giscard d'Estaing told Gorbachev: "I cannot tell you exactly when it will happen – probably within 15 years – but Europe is going to be a federal state." This was several years before the signing of the Maastricht treaty creating the European Union.

"How the hell did Giscard d'Estaing know what was going to happen in 15 years time?" Bukovksy asked during his speech. "And surprise, surprise, how did he become the author of the European constitution? A very good question. It does smell of conspiracy, doesn't it?"

Six years after Bukovksy's revelation, we are witnessing the final phase of "European integration" as a bankster devised economic crisis sweeps the continent. On Saturday, the president of the Czech Republic, Václav Klaus, told The Telegraph that "two-faced" politicians are paving the way for the EU super-state. "We need to think about how to restore our statehood and our sovereignty. That is impossible in a federation. The EU should move in an opposite direction," he said.

Zero Hedge writes today:


Alas, what also is impossible in a Federation is for a banker-controlled entity to provide money out of thin air, i.e., public debt, which dilutes the "common currency" in the process preserving the illusion that credit-fueled growth (the only kinds the world has seen since the advent of the Federal Reserve) can continue for ever, when in reality all that is happening is the ongoing dilution of sovereignty alongside the destruction of individual currencies. This is precisely what the status quo, i.e., the above-mentioned company headquartered at 200 West [Goldman Sachs], wants.


"And what the status quo wants it always gets, absent a revolution," Zero Hedge explains.

In order to make sure a revolution does not meddle with the bankster dream of totalitarian domination, a secret police is required.

[...]

Read the full article at: prisonplanet.com





---