FBI informants include a number of journalists nationwide, lawsuit suggests
If Salt Lake City attorney Jesse Trentadue is right, there are journalists around the country who also happen to be informants for the FBI.

And the journalists might not be alone. FBI informants might also be found on the White House staff, in the offices of U.S. congressmen, in the courts and among the clergy.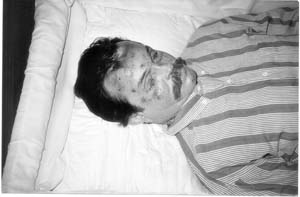 Suicide? The battered and bruised body of Kenneth Trentadue raised the suspicions of his family.

The allegations stem from Trentadue's ongoing legal battle with the FBI and the Department of Justice over the August 1995 death of his brother Kenneth Trentadue, who died under mysterious circumstances in Oklahoma City's transfer center for federal inmates.

Jesse Trentadue has long scoffed at federal authorities' explanation that his younger brother killed himself. According to Jesse Trentaude, Kenneth died as the result of an interrogation prompted by his resemblance to an early suspect in the April 19, 1995, bombing of the Alfred P. Murrah Federal Building.

Then-Chief Medical Examiner Fred Jordan, following a contentious investigation, determined the death a suicide but later claimed he had been pressured by the FBI and state prosecutors to make that ruling.

In Trentadue's latest attempt to gather information on the bombing and its possible connection to his brother's death, he filed a federal lawsuit Oct. 18 demanding the DOJ and the FBI surrender unredacted manuals that reveal the existence of a government program for recruiting and training informants.

Trentadue said he has proof that the manuals exist as well as government documentation on an ABC News executive identified by an FBI informant number. His lawsuit states: "FBI defendants' disturbing practice of using private citizens as spies in the media, on defense teams, in religious organizations as well as state and federal government is designed to and does result in the circumvention of the protections guaranteed to American citizens by the Bill of Rights and the Separation of Powers Doctrine."

Trentadue said he does not want the names of the informants.

"I know I'll never get that," he said. "But we're entitled to know who they're targeting to become informants."

An informant at ABC?

Trentadue said he first became aware that some journalists were working for the FBI when he filed a Freedom of Information Act request for surveillance videotapes of the Murrah bombing. During his exchange with the bureau, the government released some documents referring to a tip from an informant identified as NY 29000- SI-DT. The informant had contacted Supervisory Special Agent Thomas E. Nicoletti the evening of April 19, 1995, with information about who might have carried out the attack.

[...]

Read the full article at: okgazette.com





---
Tune into Red Ice Radio:
Holland Vandennieuwenhof & James Lane - Hour 1 - A Noble Lie: Oklahoma City 1995
Holland Vandennieuwenhof - Hour 2 - False Flag Methodology
Peter Dale Scott - Hour 1 - Norway's Massacre, Breivik & Deep Events
Webster G. Tarpley - 9/11 Synthetic Terror
Kent Daniel Bentkowski - Anatomy Of A False-Flag Terror Attack
James Evan Pilato - The Portland Patsy, Fake Terrorism, TSA & Starwhackers