Golden Eye-style Energy Beam Developed by NATO Disables Vehicles


Golden Eye-style Energy Beam Developed by NATO Scientists

An energy beam that can be fired to disable vehicles and electronic devices has been developed by Nato scientists.

The device uses an intense pulse of electromagnetic energy that can be directed at a moving vehicle to interfere with the electronics on board.

Tests conducted by Nato scientists who have been developing the device in Norway show that it can stop a car approaching a roadblock and could be used to thwart suicide bomb attacks.

It can also be carried in the back of a vehicle to disable other vehicles that are in pursuit.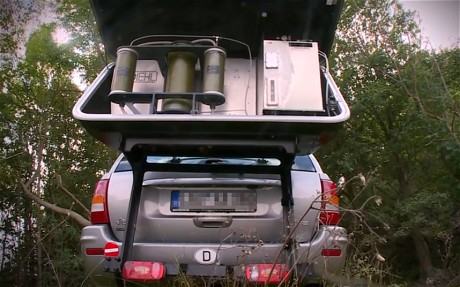 The researchers, who are working as part of Nato's Science and Technology Organisation, have also demonstrated it can disable jet skis and drones.

In 2000 terrorists launched a suicide attack against a US Navy ship, ramming it with boats packed with explosives.

It is hoped the device could help defend against this while also be used to defend ships against pirates.

The device has also been tested to disable electronic devices such as mobile phones that may be used to remotely trigger a bomb.

It is the latest advance in non-lethal weapons under research being carried out by military scientists around the world.

Recently US scientists unveiled a non-lethal microwave ray that induces intense pain in those in its path and was developed to help subdue riots.

Scientists from the UK, Norway, the US, Germany, France and a number of other countries have been working as part of the Nato Science and Technology Organisation to use high powered radio waves and microwaves as non-lethal weapons.

Dr Ernst Krogager, task group chairman of the Nato STO group that has been leading this work, code-named SCI-250, described the new electromagnetic beam in a video released on the Nato website.

[ Radio Frequency Directed Energy Weapons in Tactical Scenarios (SCI-250) ]



He said: "The ignition generates a very high intensity pulse and it will interfere with the electronic control system inside the car so the car will stop."

The video shows the system being tested in a number of scenarios to defend vehicles and checkpoints from suicide bomb attacks and approaching vehicles.

The device has been compared to the satellite weapon that features in the James Bond movie Golden Eye. In this an electromagnetic beam is fired from a satellite in orbit to disable electronic equipment.

While the latest device cannot work on the same scale, it has the potential to disable almost any electronic device.

It is, however, unlikely to work against older vehicles that rely upon purely mechanical equipment.

Electromagnetic pulses create an intense magnetic field that damages electronic circuitry.

Details of how the new device works are still secret but it is likely to use microwaves or radio frequency energy.

[...]

Scientists at the UK Ministry of Defence's Defence Science and Technology Laboratory have also been conducting research on directed electromagnetic energy weapons.

The most recent tests, conducted at a secret location in Norway, show how the electromagnetic beam can turn off a car engine and its lights as it approaches a checkpoint and a parked vehicle.

It also shows how a device mounted in the back of a car can stop another vehicle that is chasing it.

Describing the test Harry Arnesen, senior scientist at the Norwegian Defence Research Establishment that has been leading the project, said: "When we get close to the car, they will fire the engine stopper and the electromagnetic noise from the radiator will interfere with our engine and stop it.

"This is a fairly safe and simple way of doing it. It is also non-lethal – it doesn't actually kill anyone, or harm anyone. It also doesn't really harm the vehicle much either."

Read the full article at: telegraph.co.uk




---
READ:
HAARP Creates Artificial Aurora, Lights Up The Sky
---
---
Tune into Red Ice Radio:
Judy Wood - 9/11 Ten Years Later, Directed Energy Weapons & Free Energy
Matthew Stein - When Technology Fails, 400 Chernobyls, Super Solar Storms & EMPs
Kenn Thomas - JFK & The Maury Island UFO Incident, PROMIS Software & The Octopus
Maurice Cotterell - Anti-gravity Radiation & Molecular Disintegration of Matter
Freeman - Space War, the Norway Spiral, CARE, CERN, HAARP & EISCAT
Jerry E. Smith - HAARP & Weather Warfare
Judy Wood - Where Did the Towers Go?
Gary Vey - The Never Ending, HAARP, Yemen & The Ark of the Covenant
Richard Alan Miller - The Non-Local Mind in Holographic Reality
Video - Was Michael Hastings Murdered?