Govt Spy Cameras Can't See Through Smog in China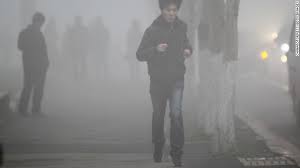 Apparently even filthy, toxic, smog clouds have silver linings.

It's being reported that the smog in China is so thick that surveillance cameras cannot see anything, thus spurring 'national security concerns' now that government officials cannot monitor the public.

To remedy this untenable situation (and rather than clean up the smog), industry insiders have suggested using radar to penetrate the gloom and "ensure security in some sensitive areas".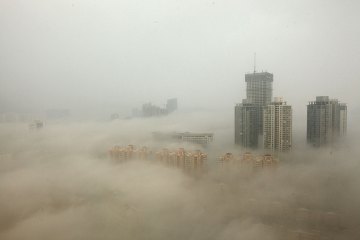 The notorious smog problem which chokes cities in China is caused by automobile emissions, coal consumption and industrial pollution. It darkens Chinese landscapes and doctors and scientists have sounded severe health warnings and linked the smog to cancer, respiratory ailments, and physical and mental health issues.

There is SO much smog it can be seen from space.

The Chinese government however, in predictable fashion, has been trying to demonstrate how beneficial the chemical clouds are to their citizens. Officials released a list of five "surprising benefits" of smog in December of last year.

From TIME:

1. It unifies the Chinese people.
2. It makes China more equal.
3. It raises citizen awareness of the cost of China's economic development.
4. It makes people funnier.
5. It makes people more knowledgeable (of things like meteorology and the English word haze).


Are you convinced yet?

China's space agency has recently accomplished the highly technical engineering feat of putting a robotic rover on the moon, but the issue of the toxic smog still dogs the experts.

Suggested solutions to the dangerous smog conditions have included creating a giant vacuum to suck it all up, and weather modification techniques - spraying super cold liquid nitrogen into the atmosphere to dissipate the haze.

Until a fix is found, the only advantage of the smog is it partially blinds some all-seeing-eyes in China.

By Elizabeth Leafloor, Red Ice Creations