Henrik Palmgren And Lana Lokteff Discuss Recent NPI Conference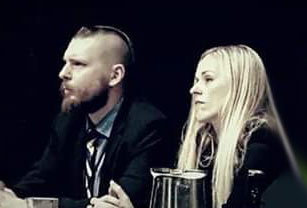 What follows is the full text of a written Q&A discussion I had with Henrik Palmgren and Lana Lokteff, the dynamic and talented couple behind Red Ice Creations. Henrik is the host of Red Ice Radio while Lana hosts Radio 3Fourteen. They also produce high quality video productions as well.

Our discussion revolved around the recent conference held at the National Press Club in Washington, D.C. organized by The National Policy Institute entitled Become Who We Are. The details of the conference, including the full lineup of speakers and official schedule, are posted at the Become Who We Are website.

I highly encourage all readers to support Henrik and Lana by subscribing to Red Ice Creations. They are producing some of the best content in the Alt Right today.

John Friend: Before we get started, I'd like to quickly say what an honor it was to meet both of you this weekend. I am a huge fan of your work so it was really nice to meet face to face and get to know each other. I don't think the conference could have gone any better – Richard Spencer really did a great job organizing and promoting it, and the turn out was tremendous.

With that having been said, in your opinion, how significant of an event was the Become Who We Are conference?

Read the rest of the interview at therealistreport.com

Editor's note: It was a pleasure meeting John Friend the night before the event. He's a likeable guy with an outgoing personality, a warm heart and a sharp mind. Please support his work at the Realist Report and American Free Press.