Iceland votes to reject debt slavery, is threatened with reprisals
Iceland faces downgrade if Icesave deal fails: Moody's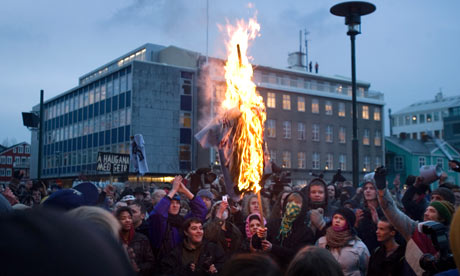 Iceland's rejection in a referendum of a new deal with Britain and The Netherlands to repay money lost in the collapse of Icesave bank would hit the country's ratings, Moody's warned on Wednesday.

It could also hit money committed by Iceland's Nordic neighbours to help it recover from its 2008 bust, adding to the government's problems, it added.

On Sunday, Iceland President Olafur Grimsson, in a surprise decision, sent the issue to the people after parliament voted a new Icesave deal through.

Prime Minister Johanna Sigurdardottir said she was disappointed by the president's decision.

"This is disappointing. We had anticipated that the president would sign the Icesave bill," she said.

"This bill got a majority in parliament and it is not common that the president rejects a bill with such a majority," she said, adding: "I don't think there is a big chance that Britain and The Netherlands would be willing to sit down and negotiate again."

Moody's said a rejection of the deal -- an earlier agreement was overwhelmingly voted down in March 2010 -- would see it "likely downgrade the government?s ratings to Ba1 or below, given the negative repercussions that would follow for the country?s economic and financial normalisation."

It said a 'No' vote might also "lead to a cut-off in the remaining $1.1 billion committed by the other Nordic countries and probably also to delays in Iceland?s IMF program."

Moody's noted that the new agreement "is considerably more favourable to Iceland" and that a poll this week "indicates good support... with 58 percent of respondents in favour."

Additionally, some members of the opposition Independence Party supported the latest deal, unlike in March 2010.

The deal submitted to a referendum expected in April, calls for Iceland to repay the 3.9 billion euros ($5.3 billion) which Britain and The Netherlands spent compensating around 340,000 of their citizens hit by online bank Icesave's collapse in October 2008, at the height of the financial crisis.

Under the new accord, Iceland would be able to repay through to 2046 at a 3.0 percent interest rate for the 1.3 billion euros it owes The Netherlands and at a 3.3 percent rate for the rest it owes Britain.

In the previous deal, rejected by 93.2 percent of voters, Iceland had to repay The Netherlands and Britain by 2024 at a 5.5 percent interest rate.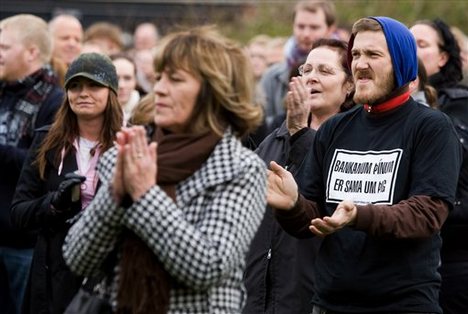 Article from: news.yahoo.com


---



Top UK businessmen among 9 arrested in bank probe


By Jill Lawless | YahooNews.com

Police have arrested nine people, including two of Britain's wealthiest entrepreneurs, on suspicion of fraud in connection with the 2008 collapse of Iceland's Kaupthing bank during the global financial crisis.

Britain's Serious Fraud Office said seven men aged between 42 and 54 were held in raids on two businesses and eight homes in London. The properties were being searched and the suspects questioned at police stations in the city. Two men, aged 42 and 43, were arrested in the Icelandic capital, Reykjavik.

Entrepreneurs Robert and Vincent Tchenguiz confirmed they were among those arrested in London and said they were "cooperating fully" with authorities.

A police van was parked outside the office of the brothers' investment firm, Rotch Property, in the upmarket Mayfair area.
The Tchenguiz brothers amassed a large property portfolio and had investments in some of Britain's best-known retail brands, including grocer J. Sainsbury PLC and pub chain Mitchells & Butlers.

But the business borrowed more than 1 billion pounds ($1.62 billion) from Kaupthing, and was plunged into crisis when the bank collapsed.
Icelandic media said former Kaupthing chairman Sigurdur Einarsson was also arrested in London.
Britain's fraud office is investigating whether Kaupthing made false claims while trying to attract British investors to its "high yield" deposit account, Kaupthing Edge.

It is also looking at why "substantial value" was taken out of the bank shortly before it collapsed.

Iceland's economy imploded when Kaupthing and the other major banks collapsed under the weight of huge debt in the early days of the world financial crisis.

Prosecutors have already made several arrests in Iceland as they investigate suspected market manipulation and fraud in the run-up to the banking crash.

Article from: news.yahoo.com


---

Also tune into:

Birgitta Jonsdottir - Financial War Against Iceland

John Perkins - An Economic Hitman on Predatory Capitalism & Corporate Monopoly

Tracy Twyman - Alconomics, Money & Magic

Ellen Brown - The Web of Debt & The Manufactured Financial Crash

Mary Croft - Natural Man vs. Artificial Person, Law, Money & Banking