Israeli Embassy: "If alive today, Jesus and Mary would be lynched by hostile Palestinians"
Israel's diplomatic corps finds itself in hot water after posting an inflammatory message on an official Facebook page. Although the message has now been deleted, this is not the first time Israel has used social media to post controversial views.

The message appeared on the IsraelinIreland Facebook page – which is linked to on the official embassy site – on Monday morning. The post comprised a painting of Mary and Jesus, accompanied by the following caption:

"A thought for Christmas… If Jesus and mother Mary were alive today, they would, as Jews without security, probably end up being lynched in Bethlehem by hostile Palestinians. Just a thought…"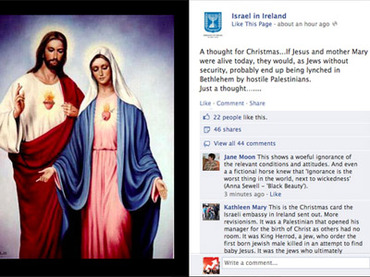 The controversial post (screenshot from Facebook).



The message sparked immediate heated debate, but was taken down within hours.

"An image of Jesus and Mary with a derogatory comment about Palestinians was posted without the consent of the administrator of the Facebook page. We have removed the post in question immediately. Apologies to anyone who may have been offended," said an official statement from the Israeli embassy in Dublin.

Since then, the IsraelinIreland page has been shut down altogether, and the link on the official website has been removed.

This was not the first time the account, which is updated by unnamed embassy staff, broadcast strong opinions.

It previously claimed that Palestinian children "play how to launch a missile in order to hit innocent Israeli children, woman and men! The apple does not fall far from the tree!" and that "Pro Palestinianism is often just a politically correct cover for anti-Semitism."

Although a popular tourist destination for Israelis, Ireland has a tempestuous relationship with Israel. The Israeli mission, which is headed by Boaz Mozai, who is deputized by his wife, Nurit Tinari Modai, has captured the headlines with its confrontational approach.

Last year Tinari Modai claimed in a letter that Ireland-based Jews should have their private information made public if they criticize their homeland.

Yet the post doesn't appear to be an isolated incident and appears as an example of Israels wider policy of hasbara (which loosely translates as "explanation"). Hasbara is seen as a concerted effort to forcefully promote Israeli views in the face of what Jerusalem perceives to be predominantly anti-Israeli media coverage worldwide. Although the term appeared in the 1970s, the policy has gained new impetus with the ascent of social media.

[...]

Read the full article at: rt.com