Jimmy Savile's Driver, Charged with Sexual Abuse of a Child, Found Dead Before Trial
More developments in the Jimmy Savile paedophilia case.

Former BBC employee and driver of paedophile Jimmy Savile, David Smith, 66, has been found dead in his home the day of his scheduled court appearance. His death is being reported as a suicide, but a postmortem still has yet to be carried out by officials.

Whatever David Smith knew, accused of being involved in child abuse with Savile, will now never be known.

It's also recently been reported that there may have been a cover up of the Savile investigation transcripts due to the involvement of British Royals:

[Royal cover up: Police censor Jimmy Savile interview transcript ]

More on the unfolding case from PressTV...

---
BBC's ex-driver charged with child sex abuse discovered dead
From: PressTV

A former BBC worker who was the driver of disgraced TV presenter Jimmy Savile has been found dead at his home on the same day that he was supposed to appear in court to face child abuse charges.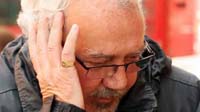 Scotland Yard said it has discovered the body of 66-year-old David Smith after he failed to appear at a London court on Monday, British media reported.

Smith -- who was a prolific sex offender -- was standing trial on a charge of abusing a 12-year-old boy in 1984.

Smith had faced two counts of indecent assault, two of indecency with a child, and one of buggery, all relating to a 12-year-old boy, between 1 June and 21 July 1984.

"Whilst officers believe they know the identity of the deceased, they await confirmation of formal identification," the police said. "A postmortem will take place in due course."

Smith's counsel, Sandy Canavan, had told the court her solicitor had been attempting to contact Smith without success.

"He has been regularly in contact. I am concerned at the lack of contact. He is the sole carer for his very aged and very unwell mother; that may have affected why he's not here today", she said.

Smith became the first suspect to face charges under the Operation Yewtree investigation into Jimmy Savile and others, which shocked Britain.

[...]

Read the full article at: presstv.ir