Largely unseen photos of James Earl Ray unveiled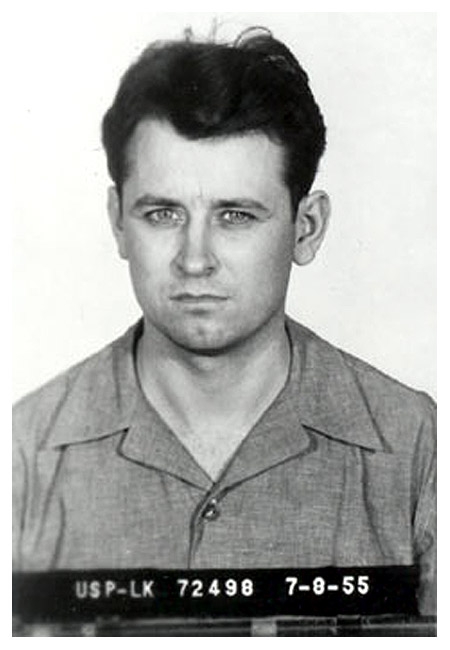 Long-forgotten photos that show James Earl Ray being brought to jail after his arrest for assassinating Martin Luther King Jr. were unveiled Wednesday to commemorate the 43rd anniversary of the civil rights leader's death.

Dozens of the striking black-and-white photos, along with letters Ray wrote from jail and other documents, were found in 2007 among old county records in a warehouse in east Memphis, Shelby County Register Tom Leatherwood said. A few photos were posted on The Commercial Appeal's website to accompany a story published Wednesday, and Leatherwood planned to make the rest available on a county website later in the day.

One of the photos shows Ray being patted down by an officer with his back to the camera and his arms spread out wide. Another shows the bespectacled Ray being led into the jail in handcuffs, wearing what appears to be a bullet-proof vest.

Leatherwood said the documents don't offer any startling new revelations about the assassination, but do provide a detailed snapshot of a pivotal moment in the nation's civil rights history. Most were never seen by the public. Leatherwood tried for about three years to make them available, and the county attorney approved their release six weeks ago, he told The Associated Press.

Then-Shelby County Sheriff Bill Morris had the photos taken to document that Ray wasn't being mistreated when he was booked into the jail for the April 4, 1968, shooting death of King in Memphis. Ray was arrested about two months after the shooting.

Ray died in prison in 1998, but he had signed a document authorizing their release in the late 1970s, Leatherwood said.

"I hope they rekindle the memory of the civil rights movement," Leatherwood told the AP. "A lot of the memories of the civil rights movement are being lost or people are taking the civil rights movement for granted. People did sacrifice their lives to that movement.

"Of course, Dr. King is the perfect example of that," Leatherwood said.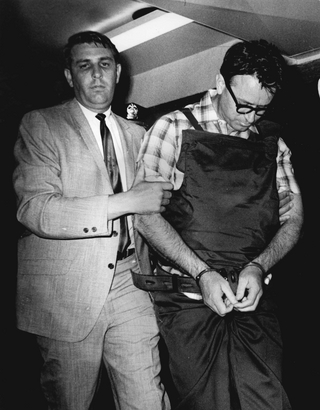 AP Photo/Shelby County Register office



Gallery of Photos of James Earl Ray

The photos were taken by Memphis photographer Gil Michael, who was an employee of Memphis State University at the time. One picture showing Morris escorting Ray into the jail was given to the news media. The other photos were sealed, and the sheriff's office kept the negatives.
Letters Ray wrote to his lawyers and family from the Shelby County Jail, where he spent eight months before pleading guilty, also were part of the newly-seen documents. So are investigators' notes; a hand-drawn map of the Lorraine Motel where King was killed; and an article from Reader's Digest entitled "Greatest Manhunt in Law Enforcement History."

The archive also includes photos of Sirhan Sirhan, who assassinated Sen. Robert F. Kennedy. They were acquired by Morris in 1968 as he researched security techniques.

Morris said he didn't want Ray killed while he was sheriff.

"On April the 4th, 1968, our whole culture of life in Memphis changed," Morris told the newspaper. "Everything changed."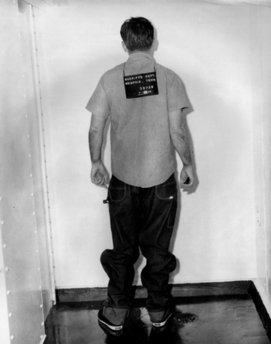 (No face shown?) "In this 1968 photo released Wednesday, March 30, 2011 by the Shelby County Register's office,James Earl Ray is seen in the Shelby County, Memphis, Tenn., jail." (AP Photo/Shelby County Register's office)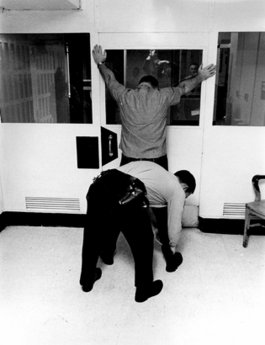 (No face, again.) "In this 1968 photo released Wednesday, March 30, 2011 by the Shelby County Register's office, a deputy, right, pats down James Earl Ray." (AP Photo/Shelby County Register's office)



Article from: news.yahoo.com


---


Unseen MLK Assassin Documents Revealed

Video from: YouTube.com

From Wikipedia:

James Earl Ray came from a poor family in Alton, Illinois, and left school at age fifteen. He joined the US Army at the close of World War II and served in Germany. He was convicted of his first crime, a burglary in California, in 1949.

In 1952 he served two years for armed robbery of a taxi driver in Illinois. In 1955, he was convicted of mail fraud. After an armed robbery in Missouri in 1959, Ray was sentenced to twenty years in prison for repeated offenses. He escaped from the Missouri State Penitentiary in 1967 by hiding in a truck transporting bread from the prison bakery.

Capture and trial
On June 8, 1968, a little more than two months after King's death, Ray was captured at London's Heathrow Airport while trying to leave the United Kingdom on a false Canadian passport. At check-in the ticket agent noticed the name on his passport was on a Royal Canadian Mounted Police watchlist. He was using the name of Ramon George Sneyd.[15]

At the airport, officials noticed that Ray carried another passport under a second name. The UK quickly extradited Ray to Tennessee, where he was charged with King's murder. He confessed to the crime on March 10, 1969, although he recanted this confession three days later. After pleading guilty he was sentenced to ninety-nine years in prison.[16] Ray entered a guilty plea on the advice of his attorney, Percy Foreman, in order to avoid a potential trial conviction, which could have led to a sentence of death. The method of execution in Tennessee at the time would have been electrocution.

Ray fired Foreman as his attorney and derisively called him "Percy Fourflusher," thereafter. Ray began claiming that a man he had met in Montreal, who used the alias "Raul", had been deeply involved. Instead he asserted that he did not "personally shoot Dr. King," but may have been, "partially responsible without knowing it," hinting at a conspiracy.

This version of King's assassination and his fleeing Ray sold to William Bradford Huie. Huie investigated this story and discovered Ray sometimes lied. Ray told Huie he purposely left the rifle with his fingerprints on it behind in plain sight because he wanted to become a famous criminal. Ray was convinced he was so smart that he would not be caught.[1] He believed Governor of Alabama, George Wallace, would soon be elected President and Ray would only be confined for a short time.[1]

He spent the remainder of his life attempting unsuccessfully to withdraw his guilty plea and secure a trial.

1977 escape

On June 11, 1977, Ray made his second appearance on the FBI Most Wanted Fugitives list, this time as the 351st entry. He and six other convicts had escaped from Brushy Mountain State Penitentiary in Petros, Tennessee, on June 10, 1977. They were recaptured on June 13, three days later, and returned to prison.[17] A year was added to Ray's previous sentence, to total 100 years.

Ray had hired Jack Kershaw as his attorney, who promoted Ray's claim that he was not responsible for the shooting, which was said to have been the result of a conspiracy of the otherwise unidentified man named "Raul". Kershaw and his client met with representatives of the United States House Select Committee on Assassinations and convinced the committee to run ballistics tests — which ultimately proved inconclusive — that would show that Ray had not fired the fatal shot.[18]

Kershaw claimed that the escape was additional proof that Ray had been involved in a conspiracy that had provided him with the outside assistance he would have needed to break out of jail. Kershaw convinced Ray to take a polygraph test as part of an interview with Playboy.
The magazine said that the test results showed "that Ray did, in fact, kill Martin Luther King Jr. and that he did so alone". Ray fired Kershaw after discovering that the attorney had been paid $11,000 by the magazine in exchange for the interview and hired conspiracy theorist Mark Lane to provide him with legal representation.[18]
Later developments

In 1997, King's son Dexter met with Ray, and publicly supported his efforts to obtain a retrial. Loyd Jowers, a restaurant owner in Memphis, was brought to civil court and sued as being part of a conspiracy to murder Martin Luther King. Jowers was found legally liable, and the King family accepted $100 in restitution, an amount chosen to show that they were not pursuing the case for financial gain.

Dr. William Pepper, a friend of King in the last year of his life, represented Ray in a televised mock trial in an attempt to get him the trial he never had. Pepper later represented the King family in a wrongful death civil trial against Loyd Jowers. The King family has since concluded that Ray did not have anything to do with the murder of Martin Luther King, Jr.[19]
Death

Ray died in prison on April 23, 1998, at seventy years of age, from complications related to kidney disease and liver failure caused by hepatitis C. He probably contracted the disease through a blood transfusion given after he sustained a stabbing while at Brushy Mountain State Penitentiary.

Ray was survived by seven siblings. His brother Jerry Ray told CNN that his brother did not want to be buried or have his final resting place in the United States because of "the way the government has treated him." Ray was cremated and his ashes were flown to Ireland, the home of his family's ancestors.[20]
Source


---


William Francis Pepper is a barrister in the United Kingdom and admitted to the bar in numerous jurisdictions in the United States of America. His primary work is international commercial law. He has represented governments in the Middle East, Africa, South America, and Asia. Today, Pepper represents Sirhan Sirhan, the gunman convicted in the assassination of Senator Robert F. Kennedy in June 1968.