Learning Fear: School To Hold 'Active Shooter Drills,' Fire Blank Rounds In Hallways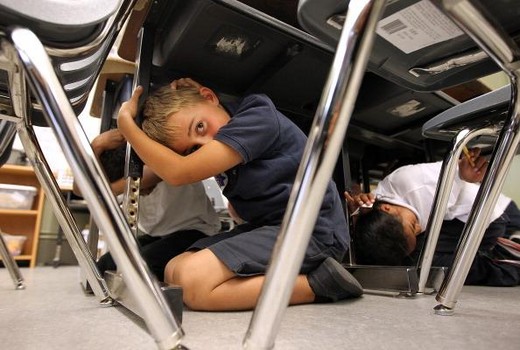 CBS News reports that a high school in the far northwest suburb of Chicago will be conducting a school shooting drill which will include all the usual securing of the classrooms by teachers: locking of doors, closing of curtains, switching off of lights, and huddling in shadowy corners.

But this little drill will feature something extra special for the kiddies: the sounds of gunshots as blanks are fired in the school's hallways. Yes, nothing like a bit of post traumatic stress to round out the school day.

According to the e-mail sent out by the Cary-Grove High School to parents:


This drill, "may cause some students to have an emotional reaction. … Additionally, we have trained social workers on staff who can speak directly with your child should he or she need added support."

(Read full text of the e-mail here.)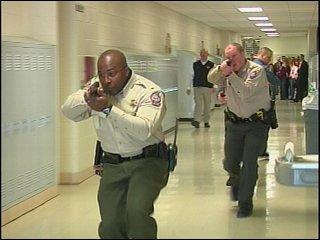 In these days of increasing gunfire, few – if any – parents have a problem with schools being properly prepared to handle such an emergency, and drills are a good method of accomplishing this end. Those born in the 1940s likely remember the whimsical "Duck and Cover" civil defense film that first began airing in schools in the 1950s so children would know how to behave in the event of nuclear war (though schools didn't 'improve' the setting with a flash of atomic brilliance).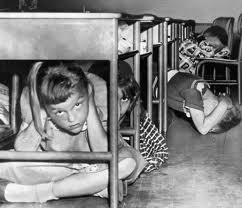 I vividly remember tornado drills as a child — our modern day 'duck and cover' exercises – though I don't remember the deafening train-like sound of a tornado filling the school hallways. And children and adults in the workforce are frequently exposed to those ear-splitting fire drills (without the added fun of smoke-clogged passages). But since the terror attacks that rocked our nation on September 11, 2001, schools have been introduced to a new kind of drill, called "terror drills," which more recently have come to be known as "shooting drills." And while most schools conduct these drills in a calm and reasoned fashion, some have made certain gross errors in judgment.

Back in 2006, NBC reported that Michigan police officers in full riot gear with weapons drawn stormed a middle school and high school – the students were unaware that they were involved in nothing more than a practice drill, and, as one mother put it, "Some of these kids were so scared, they just about wet their pants."

And a school shooting drill at a Denver Colorado elementary school – featuring the deafening sound of gunfire – terrorized many of the children (see video coverage here – you can hear some of the scared cries beneath the blaring siren).

Perhaps the most disturbing of these is the school shooting drill that occurred back in 2008 at New Jersey's Phillipsburg Early Learning Center – that's right, early learning. According to Current, a man burst into the school's library and began shooting blanks, causing terrified teachers to dive under tiny tables for cover. "You heard people crying," said one teacher. "You heard other people praying. It was pretty dramatic."

It seems Cary-Grove high school has taken at least one lesson from these incidents – it's much less traumatizing if teachers and students know they're undergoing a drill. Consequently the school sent out an e-mail ahead of time (though according to CBS, many of the parents never received that e-mail).

[...]

Read the full article at: addictinginfo.org