Libyan rebels claim control of most of Tripoli despite clashes; Gadhafi whereabouts unknown
Libyan rebels claimed to be in control of most of the Libyan capital on Monday after their lightning advance on Tripoli heralded the fall of Moammar Gadhafi's nearly 42-year regime. Scattered battles erupted, and the mercurial leader's whereabouts remained unknown.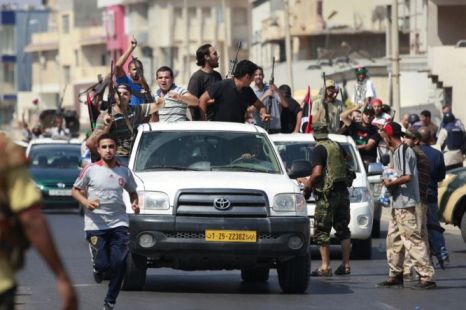 Libyan rebel fighters celebrate as they drive through Tripoli. Image: Source


The international community called on Gadhafi to step down and moved ahead with post-war planning as euphoric residents celebrated in the Green Square, the symbolic heart of the Gadhafi regime. Colleagues warned he wouldn't go easily. Two of his sons were captured late Sunday.
"The real moment of victory is when Gadhafi is captured," the head of the opposition's National Transitional Council, Mustafa Abdel-Jalil, said at a news conference in the eastern city of Benghazi.

NATO promised to maintain its air campaign until all pro-Gadhafi forces surrender or return to barracks. NATO warplanes have hit at least 40 targets in and around Tripoli in the past two days — the highest number on a single geographic location since the bombing started more than five months ago, the alliance said.

"We came out today to feel a bit of freedom," Ashraf Halaby, a 30-year-old Tripoli resident, said as he and four of his friends watched several hundred people celebrating at Green Square. "We still don't believe that this is happening."

Revelers flashed the "V'' for victory sign and motorists circled the square's central median honking their horns and waving rebel flags.
The rest of the city, a metropolis of some 2 million people on the Mediterranean coast, was on edge, with most stores shuttered and large areas appeared lifeless, without even a sign of the thousands of rebels now in the city.

[...]

Read updates of events at: yahoo.ca

Front Page Image: A Libyan rebel holds the Kingdom of Libya flag as he walks past a burning wrecked tank at a site bombed by coalition air force in the town of Ajdabiya on March 26 as forces loyal to Libyan leader Moammar Gadhafi were retreating after rebels recaptured the key eastern town in their first significant victory since the launch of the Western-led air strikes a week ago. Credit: Patrick Baz / AFP - Getty Images


---
Gaddafi defiant as tanks defend compound - but where is leader?
NATO Hands Terrorists Who Killed U.S. Troops Control of Libya