Lord Rothschild takes £130m bet against the euro
Lord Rothschild has taken a near-£130m bet against the euro as fears continue to grow that the single currency will break up.

The member of the banking dynasty has taken the position through RIT Capital Partners, the £1.9bn investment trust of which he is executive chairman.

The fact that the former investment banker, a senior member of the Rothschild family, has taken such a view will be seen as a further negative for the currency.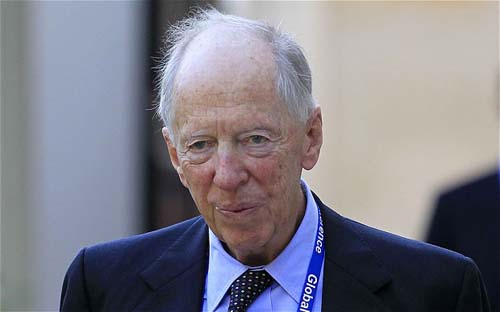 Lord Rothschild has led RIT since 1988



The latest omen follows news in The Daily Telegraph late last week that the government of Finland is already preparing for the euro's break-up.

RIT, which Lord Rothschild has led since 1988, had a -7pc net short position in terms of principal currency exposures on the euro at the end of July, up from -3pc at the end of January. Given a net asset value of £1.836bn at the end of July, the position is worth £128m.

Sources close to RIT suggested that the position was not a dogmatic negative view on the euro as a currency, but rather a realistic approach on a currency that remains relatively weak.

It is not the first time Lord Rothschild has used currency positions as a form of hedge. RIT significantly increased its exposure in sterling after the currency's decline in 2008, but then scaled back on both the sterling and the euro, anticipating the ensuing recessions in both regions.

Some 53pc of RIT's assets were in US dollars at the end of July, in part a reflection of its deal to buy a 37pc stake in Rockefeller Financial Services at the end of May.

Lord Rothschild is not alone in seeing value in shorting – or selling down – the euro. At a conference organised by business news channel CNBC in July, Mary Callahan Erdoes, head of JPMorgan Asset Management, said "shorting the euro" when asked for her single best investment idea.

In June, George Soros – the billionaire investor best known in the UK for helping to force sterling out of the European Exchange Rate Mechanism in 1992 by betting against the British currency – said that European leaders at that point had a "three-month window" to save the euro.

Read the full article at: telegraph.co.uk





---
Also tune into Red Ice Radio:
Bill Still - The Money Masters & The Secret of Oz
William Dean A. Garner - World Control, Gold & The Jesuits
Tracy Twyman - Alconomics, Money & Magic
Ellen Brown - The Web of Debt, The Manufactured Financial Crash, Global Tax & The Basel Accords
Joseph P. Farrell - Babylon's Banksters, Global Financial Blackmail, Geo Warfare & The End Game
Jim Marrs - The Trillion-Dollar Bailout Conspiracy, Underwear Bomber, TSA, Wikileaks & Socialism
Joan Veon - G20, Global Credit Crisis & Public-private Partnership