Man Confiscates Police Cameras After Finding Them In His Trees
A B.C. man has seized two surveillance cameras he says RCMP had hidden in trees near his trailer home, and they are full of images from crime scenes and investigations.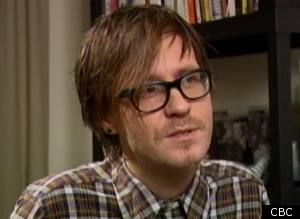 Dion Nordick [left] of Grand Forks told CBC News on Tuesday he found the motion-activated cameras in June, in trees overlooking the trailer he rents. They are now in his lawyer's possession.

Nordick said he took the cameras down, removed the memory cards inside, and found pictures of himself and his friends coming and going from his trailer among the 200 images on the cameras.

There were also pictures of drug busts, suicides and assaults, "and it looked like they just hadn't been erased off the card," said Nordick.
He said he saw a photo of a dead body and images of a woman who was the apparent victim of an assault.
"That corpse that I viewed is someone's loved one. Those pictures of that woman standing in her brassiere, covered in bruises — she probably had a hard time letting the police take those pictures. She probably had a hard time going to the police," said Nordick.

The cameras even had pictures of police installing the devices in the trees.
He said he was alerted to the cameras because they used a flash when they were filming.
"I would say it's 100 per cent sloppy police work. It's Charlie Brown technique, I would say," said Nordick.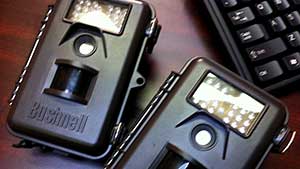 The motion-actived cameras installed by the RCMP are commonly used by hunters to capture images of game in the wilderness. (Bob Keating/CBC)


Nordick said he believes the RCMP installed the cameras in the trees because he is a graffiti artist and they wanted to track his movements to help determine if he had been spray-painting tags around the community.

He said RCMP raided his home in June and told the local media they found evidence of a grow-op, but no actual marijuana plants.
They also found spray paint and stencils, which they took, he said.

Nordick said he gave the cameras to his lawyer, Jesse Gelber, who said police had no right to be on the property installing surveillance cameras.
"Generally, police don't have judicial authorization on private land. That's not legal; that's trespass," said Gelber.
Gelber said he is keeping the cameras until he gets an explanation from police.

But the RCMP say they want their cameras returned.

"The fact that someone has committed a criminal act and stolen our cameras certainly is, I guess, a concern for RCMP and for our investigators," said Sgt. Dan Seibel.

Seibel also said RCMP would not be recommending any charges related to drugs or graffiti-related mischief.

Article from: ca.news.yahoo.com

For CBC video: here