Mars once had water warm enough to sustain life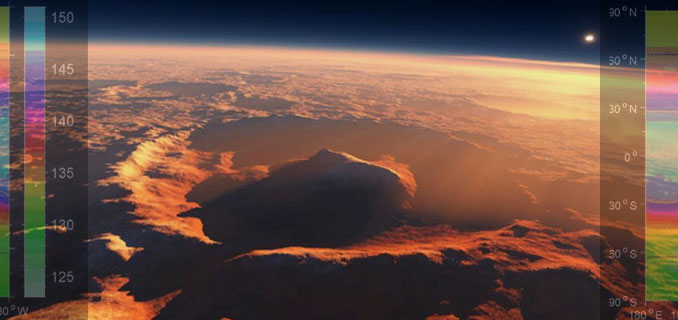 We know that Mars once had lots of water, considered a prerequisite for habitability. What hasn't been known, however, is just how friendly — or unfriendly — this water might have been to life, as the temperature and chemical conditions of ancient Martian water has remained a complete mystery.

But as a new analysis of Martian meteorites has revealed water temperatures on the Red Planet once ranged between 50°C to 150°C (122°F to 302°F) — temperatures that we know are most certainly hospitable to microbial life.

Biologists who study extremophiles on Earth have discovered many microorganisms that can survive and thrive in some of the most extreme environments. As an example, microbes have been found in the volcanic thermal springs at Yellowstone Park — water sources that, as we now know, are comparable in temperature to what was once found on Mars.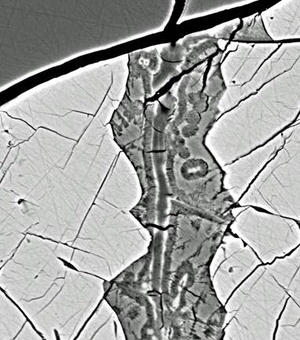 To make this determination, John Bridges from the University of Leicester Space Research Centre, took a closer look at a special class of Martian meteorites found only in impact craters. Called nakhlites, these rocks are characterized by an intricate series of small veins which are filled with minerals formed by the action of water near the surface of a planet.

By using an electron microscope and a transmission electron microscope, Bridges and his colleagues studied the peculiar alterations found in eight different samples. They discovered that the first mineral to grow along the walls of the vein was iron carbonate, which would have been formed by carbon dioxide-rich water at around 150°C. Then, after cooling to about 50°C, it formed clay minerals, followed by an amorphous phase that gave it the same composition as clay.

Fascinatingly, microbes use these exact reactions during mineral formation to gain energy and elements required for their survival.

"The mineralogical details we see tell us that there had been high carbon dioxide pressure in the veins to form the carbonates," noted Bridges through the official release. "Conditions then changed to less carbon dioxide in the fluid and clay minerals formed. We have a good understanding of the conditions minerals form in but to get to the details, chemical models are needed."

And indeed, subsequent analysis by Susanne Schwenzer, Postdoctoral Research Associate in the Department of Physical Sciences at The Open University, confirmed that this order-of-operations in mineral formation was what truly happened. As a result, Bridges and Schwenzer were able to predict water conditions on Mars. At first, the water was around 150°C and contained a lot of CO2 (forming the carbonates), and then cooled to about 50°C (thus forming the clays).

Interestingly, the driving force responsible for heating the water would have likely been asteroid impacts on the surface. Given just how pockmarked the planet is, there's a good chance that Mars once featured many of these warm reservoirs.

The entire study can be found at Earth and Planetary Science Letters.

Article from: io9.com