Mayas complain of government banning rituals at archaeological sites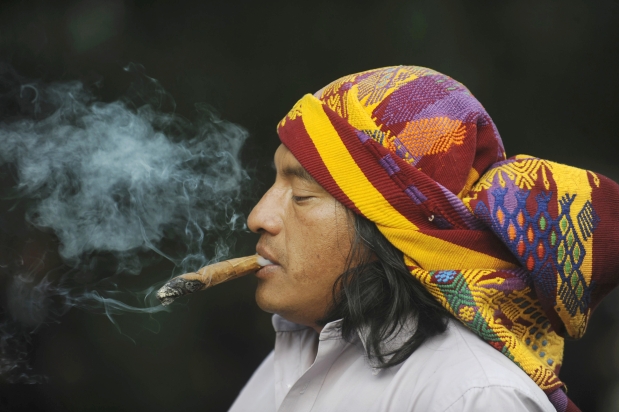 Maya priests started off ceremonies aimed at marking the end of the current era in the Maya long-count calendar last week, with dancing, incense and rituals designed to thank the gods.

The Mayas performed the "New Fire" ceremony at a park in Mexico City, but complained they have been barred by authorities from performing rituals at their ancestral temples in the Maya region.

The Mayas measure time in 394-year periods known as Baktuns. The 13th Baktun ends around Dec. 21, and 13 is considered a sacred number for the Maya.

The estimated 800,000 surviving Mayas in Mexico are hoping for a better new Baktun than the one now ending, which began around 1618. It included the painful aftermath of the Spanish conquest in which Mayas and other indigenous groups saw their temples and sacred writings systematically destroyed and their population decimated by European diseases and forced labour.

"This is the ending of an era for the Maya, an era which has been very intense for us, in which we have had suffering and pain," said Maya priest Jose Manrique Esquivel, 52, who wore a feather headdress and body paint for the ceremony. For the new Baktun, he said, "we are praying the wars, the conflicts, the hunger to end."

The Maya survived all of that suffering with their pride intact.

"We were not conquered, we are still here, we are alive and so is our culture our language, our food, our history," Manrique Esquivel said.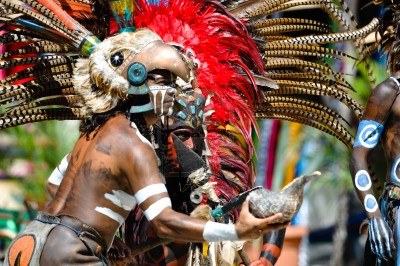 Mayan Warrior in traditional dress


The priest, who is in agreement with most archaeologists and astronomers, doesn't believe the ancient Mayas predicted the world would end with the close of the current Baktun. Some bloggers and astronomy enthusiasts have suggested the Maya calendar would "run out" on Dec. 21.

Despite the generally festive atmosphere at the ceremony, there was some discontent that the government won't allow Maya priests and healers to perform their ceremonies inside archaeological sites like Chichen Itza, Coban and Tulum that their ancestors built.

"We would like to do these ceremonies in the archaeological sites, but unfortunately they won't let us enter," Manrique Esquivel said. "It makes us angry, but that's the way it is ... we perform our rituals in patios, in fields, in vacant lots, wherever we can."

Francisco de Anda, the press director for the government's National Institute of Anthropology and History, which oversees archaeological sites in Mexico, said there were two reasons for the ban on ceremonies. "In part it is for visitor safety, and also for preservation of the sites, especially on dates when there are massive numbers of visitors."

[...]

Read the full article at: ottawacitizen.com