MH17: Are Pristine and Expired Passports a Smoking Gun for a False Flag?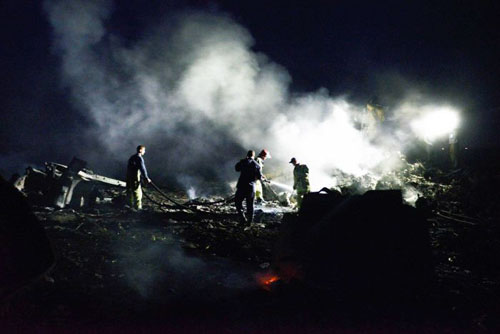 As the dust settles on this latest air tragedy, a number of very visible anomalies exist, all of which have been willingly glossed over by western media analyists and government officials.

Putting the current media storm into context, it's essential to establish the political motives of those parties rushing to assign blame. Western government and major western media outlets, namely in the US and Great Britain, have been keen to politicize the incident and pin the blame for this tragedy either directly, or indirectly on Russia. 21st Century Wire's first report on MH17 provided details revealing western media omissions, as well as our analysis of why the west's story doesn't add up.

On July 17th, Flight MH17, a Boeing 777 Malaysian Airlines passenger jet traveling from Amsterdam, Netherlands to to Kuala Lumpur, Malaysia, crashed near the settlement of Grabovo, in Eastern Ukraine's Donetsk region, with the 298 persons on board.

Authorities claim that the fight 'disappeared' from radar prior to crashing, and western media, along with the western-backed government in Kiev, claimed from the onset that the airliner was shot down by by 'pro-Russian separatists' with a Russian-made 'BUK' surface-to-air missile (SAM) system, although no evidence, other than anecdotal, exists the back Washington's official conspiracy theory.

Questions About the Passports

It's worth pointing some interesting anomalies surrounding Within hours of the incident, the first images broadcast over US and European broadcast networks, including reports our research team viewed from ABC and CNN, included shot of dozens of Passports being handled, presumably near the crash site, by an unknown man in front of a camera. Were these passports gathered from hundreds of charred, individual bodies, or was it something else?

Observes may consider this as one smoking gun, albeit, without the smoke, or a even a scratch. Oddly, all the Passports appear in mint condition, including many contained in perfectly preserved plastic protectors – no damage, no scratches, none are deformed in any way.

The first problem with this is that, clearly, a number of these Passports have been 'hole-punched', in the upper left-hand corner, and 'clipped' (triangular cut-out from right-hand center front cover) indicating that they are either expired, and are invalid for travel – making it impossible that any of these decommissioned passports could be used to travel internationally at the flight's port of Departure in Amsterdam. Watch this video:



[...]

Read the full article at: 21stcenturywire.com




---
Was the Shootdown of the Passenger Jet Over Ukraine a False Flag?