Michael Hastings Video: Does New Footage Show Explosions Prior To Crash?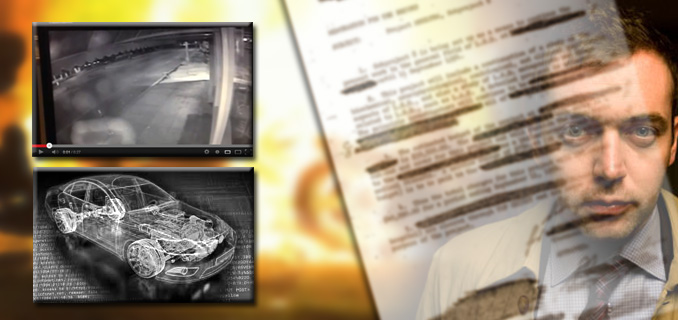 Independent and alternative media outlets question the official version of events after reviewing this latest footage released of Michael Hastings' fiery crash on June 18, 2013.
Some are suggesting that an explosion can be seen just prior to the final impact.

Decide for yourself:

(Warning: May be graphic to some viewers)


From Wikipedia:
"Video from a nearby security camera shows Hasting's vehicle struck a metal water main, with two associated flashes of light, before hitting the palm tree and exploding.

Witnesses described explosions prior to the crash and, following it, the car's engine being ejected 50 to 60 yards from the scene.

Ultimately this footage raises more questions than it answers. And answers are in short supply as the LAPD has suggested they have found no signs of foul play, and "L.A. County coroner's office has not provided an official cause of death or the results of a toxicology test" despite public skepticism and Hastings' own testimony the night before his death that he was being investigated by the FBI. Source

Michael Hastings, 33, was a journalist most famous for exposing American military General Stanley McChrystal and his "staff that were overtly critical and contemptuous of White House staff and other civilian officials", which eventually led to the General's resignation.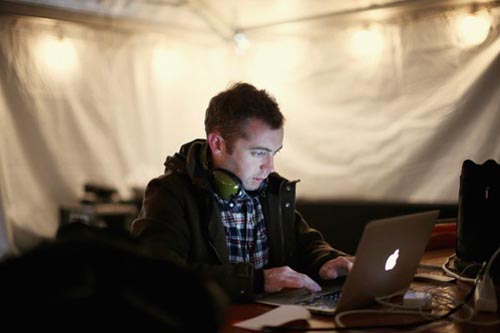 Of Hastings' death, Former United States National Security Council and Counter-terrorism Expert Richard Clarke had remarks:

[...] what is known about the crash is "consistent with a car cyber attack." [Clarke] was quoted as saying "There is reason to believe that intelligence agencies for major powers -- including the United States -- know how to remotely seize control of a car. So if there were a cyber attack on the car -- and I'm not saying there was, I think whoever did it would probably get away with it."
Source


By Red Ice Creations




---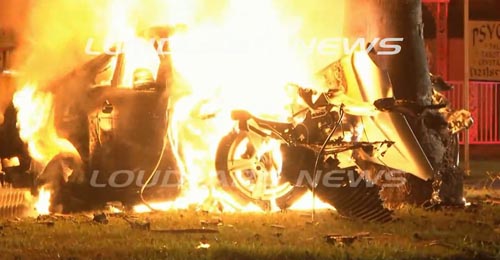 ---



FBI sued for keeping secret their file on journalist Michael Hastings


From: RT

Two investigative journalists are suing the FBI after the government failed to respond on time to a pair of Freedom of Information Act requests filed for details on the death of reporter Michael Hastings.

Jason Leopold and Ryan Shapiro filed a joint suit on Friday after the Federal Bureau of Investigation neglected to respond to their FOIA requests within the 20-working day period required by law.

Leopold and Shapiro both sent FOIA requests to the FBI following Hastings' untimely death last month, and are now taking legal action in an attempt to expedite pleas that have so far been ignored by the bureau.

Hastings, 33, died last month in Los Angeles, California after his Mercedes C250 Coupé crashed at a high rate of speed in the early morning hours of June 18. Hastings was widely-respected for his hard-hitting brand of national security reporting with outlets ranging from Rolling Stone to Buzzfeed.com, and has been credited with causing the resignation of Stanley McChrystal, the four-star general who headed NATO's International Security Assistance Force in Afghanistan until a Hastings-penned expose in 2010 embarrassed him to the point of abandoning that role.

According to a friend, Hastings warned his colleagues over email just hours before his death that he was working on a big story and that the FBI would likely be investigating his associates.

"It alarmed me very much," Staff Sgt. Joseph Biggs, a friend of Hastings, said of the email he received last month. "I just said it doesn't seem like him. I don't know, I just had this gut feeling and it just really bothered me," he told KTLA News.

The anti-secrecy website WikiLeaks also claimed that Hastings made contact with an attorney for the group the night before his fatal car-crash, furthering speculation that he sought protection from a potential government investigation.

[...]

Read the full article at: rt.com




---

To see analysis on the strange facts of this case, check out Red Ice Creations EXTRA Video "Was Michael Hastings Murdered?"

READ:Ace Of Spades For Michael Hastings: DARPA Contractors Take Control Of Moving Vehicles




---

Previously released footage of Michael Hastings' car speeding through a red light shortly before crashing. Are those tail lights or red brake lights on the back of his car as he flies through? Was he attempting to slow down?