Mile-long floating CITY - with schools, hospital, parks and an airport for 50,000 residents


The idea for Freedom Ship was floated in the late 1990s, and the director of Freedom Ship International, Roger M Gooch, has stated the company is still "trying to raise the estimated £6billion needed to turn the dream,[...] into an ocean-going reality."

Freedom Ship, or Prison Barge Death Trap? You decide.

More from MailOnline...

---
The incredible mile-long floating CITY - complete with schools, a hospital, parks and an airport for its 50,000 residents
By Peter Simpson | MailOnline

Floating around the globe, drifting from country to country, never staying in one place long enough to get bored … 

If you like travelling, life on the Freedom Ship, the world's first floating city, sounds perfect.

There's only a couple of hitches – it's not built yet, and it's going to look an awful lot like a multi-storey carpark when it is.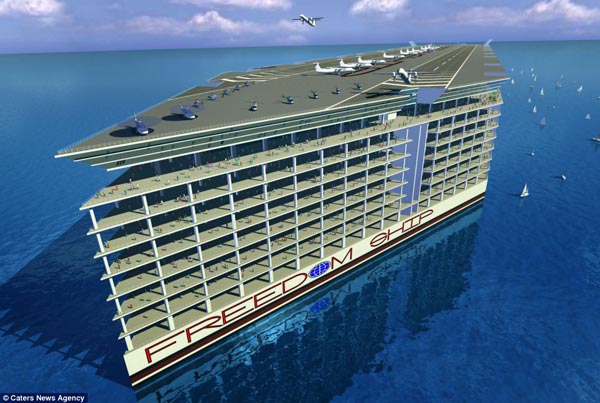 Designed by the Florida-based Freedom Ship International, the floating city, concept pictured, is set to cost $10 billion and weigh 2.7 million tonnes - making it too large to ever dock. The ship would spend the whole time at sea, circling the globe once every two years, powered by solar and wave energy.



Its designers have released computer-generated photographs of what they hope the mile-long vessel will look like.

It would have enough room for 50,000 permanent residents within its 25 storeys and boasts schools, hospitals, art galleries, shops, parks, an aquarium and a casino. It would even have its own airport on the roof, with a runway serving small private and commercial aircraft carrying up to 40 passengers each.

Roger M Gooch, director and vice-president of Florida-based firm Freedom Ship International, said: 'The Freedom Ship will be the largest vessel ever built, and the first ever floating city.'

His company is trying to raise the estimated £6billion needed to turn the dream, which has been several years in the planning, into an ocean-going reality.

'This will be a very heavily capitalised project and the global economy in the last few years hasn't been too inviting for unproven progressive projects like ours,' he added.

'[But] in the last six months we've been getting more interest in the project and we are hopeful we will raise the $1billion (£600million) to begin construction.' The ship would spend 70 per cent of its time anchored off major cities and the rest sailing between countries.

Powered by solar panels and wave energy, the city would navigate from the east coast of the US across the Atlantic to Europe and into the Mediterranean.

[...]

Article and more images at : dailymail.co.uk