Nazca Lines May Be a Labyrinth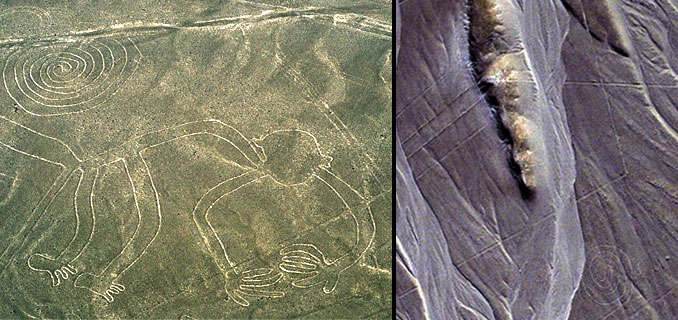 Hundreds of vast patterns traced across 80km of plateau in Peru's Nazca desert have perplexed archaeologists since the markings were rediscovered almost a century ago.

The designs, which were drawn between 100 BC and 700AD by scraping away red dust and rock to reveal white ground beneath, clearly resemble geometric shapes or animals including monkeys, humans, birds and fish.

But their enormous size, with some measuring more than 200m (660ft) across, means they are only visible from the air, raising questions about how and why they were created.

Some experts have suggested the patterns were painstakingly traced out as a message to the gods, while other commentators have even suggested the lines were drawn by aliens.

Now British researchers have claimed that a "labyrinth" of geometric shapes and lines was not created to be seen at all, and was instead a walking path which played a role in ancient rituals.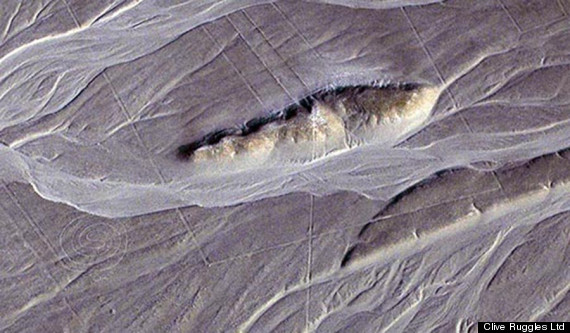 Photo of the labyrinth, with spiral passageway visible at bottom left:


Prof Clive Ruggles of Leicester University said: "Unlike some of the famous zoomorphic (animal) figures, its irregular form provides no reason to speculate that it might have been intended to be viewed from the air.

"It was not meant to be 'seen' from outside at all, but rather to be experienced from within. It was meant to be walked."

Prof Ruggles and Dr Nicholas Saunders of Bristol University traced 4.4km of paths during a five-year project, becoming the first known people to do so in more than 1,000 years.

Writing in the Antiquity journal, they suggested the network of patterns was laid out around 500AD.

The well-preserved state of the labyrinth suggests it was only ever walked by small groups of people in single file and indicates a possible spiritual purpose, they said.

Although parts of the lines have been washed away by flash floods, the remainder is well preserved and the edges are still sharply defined.

Prof Ruggles claims to have been the first person to discover the labyrinth among the patterns while studying the lines in 1984.

He said: "I didn't have the slightest idea of its true nature. Only gradually did I realise that here was a figure set out on a huge scale and still traceable, that it was clearly intended for walking, and that I was almost certainly the first person to have recognised it for what it was, and walked it from end to end, for some 1500 years.

"Sharing some of those experiences by walking the lines ourselves is an important source of information that complements the 'hard' scientific and archaeological evidence and can really aid our attempts to make anthropological sense of it."

The World Monuments Fund last year warned that the lines could be jeopardised by tourism, with poorly regulated private flights, rising levels of litter and intrusive viewing platforms damaging the experience of visitors.

The lines were drawn by the Nazca people, a civilisation living in modern Peru which disappeared almost 1,500 years ago, and were designated a UNESCO world heritage site in 1994.

A report by British academics in 2009 found that the society may have brought catastrophe upon itself by clearing vast numbers of local huarango trees for timber and fuel.

The trees have exceptionally deep roots and would have played a key role in keeping the soil fertile and moist, scientists said.

Mass deforestation may have irreparably damaged the ecosystem, with the lack of trees making the climate too dry for local people to grow food, it was claimed.

Article from: telegraph.co.uk





---