Obama pushed to compile 'Do Not Kill' list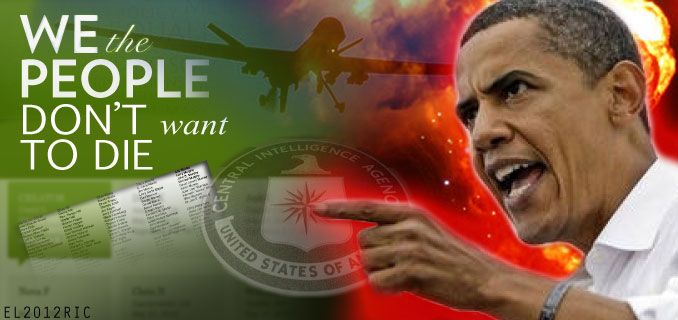 The government keeps a "Do Not Call" list to protect Americans from telemarketers, and a "No-Fly" list to protect Americans from suspected extremists who might try to board an airplane. So what about a "Do Not Kill" list to protect citizens from drone strikes by their own government?

That's the (somewhat) tongue-in-cheek proposal from critics of President Barack Obama's reported "kill list" of suspected terrorists — which may include American citizens overseas. They have launched a petition on the White House web site asking him to create a government "Do Not Kill" list.

The petition, created Wednesday, had 1,701 signatures as of this writing, 23,299 shy of the 25,000 needed within 30 days to get a formal White House response.

The text of the petition is sharply critical of the so-called secret "kill list," which was detailed in a recent New York Times piece. The article's publication came as the Obama Administration has been touting its hard-line on terrorism in the context of a hard-fought election campaign."The New York Times reports that President Obama has created an official 'kill list' that he uses to personally order the assassination of American citizens," the petition says.

"Considering that the government already has a 'Do Not Call' list and a 'No Fly' list, we hereby request that the White House create a 'Do Not Kill' list in which American citizens can sign up to avoid being put on the president's 'kill list' and therefore avoid being executed without indictment, judge, jury, trial or due process of law," it says.

Article from: news.yahoo.com





---



Choosing who lives and who dies: the methodical assassinations of Barack Obama's 'kill list'


By David Blair | Telegraph.co.uk

There is something deeply unsettling about the disclosure in The New York Times that America has developed a clinical, dispassionate procedure for selecting the targets of drone strikes in Pakistan, Yemen and Somalia. Every week or so, about 100 national security officials gather by video conference to pore over the photographs and biographies of al-Qaeda terrorists. They decide who should be spared and who should be marked for death.

Those "nominated" for assassination (yes, "nominated" is apparently the official word) are placed on a "kill list" that passes directly to Barack Obama. He then exercises the judgment of Solomon, going through the list name by name and deciding who will die. The CIA's drones are then programmed to dispatch the President's chosen targets.

The aim is to keep the drones on a "tight leash", to use Obama's phrase, and ensure that killings only happen with the strictest oversight. This procedure has been revealed presumably because the White House wants to reassure us that drones are not dealing death from the skies at random. The fact that it is all so methodical is supposed to be a virtue. Nonetheless, the idea that a formal process has developed at all is grounds for deep discomfort.

[...]

But in his inaugural address back in January 2009, he also said: "We reject as false the choice between our safety and our ideals." The fact that he now pores over death lists shows the utter fatuity of that statement. The tension between safety and idealism, between liberty and security, is ever-present and unavoidable. As of today, Obama's point on that spectrum is to believe that he can take upon himself the right to decide who lives and who dies.

[...]

Read the full article at: telegraph.co.uk





---


Obama "vetoed Assad assassination attempt" - RT.com


New reports filed this week suggest that the an attempt to assassinate Syrian President Bashar al-Assad orchestrated by French and Saudi governments was recently abandoned after US President Barack Obama refused to involve America in the attack.

Sources reporting to the Debka news agency in Israel say that a Franco-Saudi plan to oust Assad from his rule in Syria was all but implemented in recent weeks, but the White House's reluctance to offer US assistance eventually eroded what chance existed for ending Assad's rule.

According to military and intelligence sources reporting to Debka, a complex plan relying on air strikes and bombardment from the sea was believed to be on the table. When prompted to add US manpower to aid in the attack, however, President Obama repeatedly refused to get involved.
---
Chomsky: Bush kidnapped & tortured, Obama murders
White House defends drone attacks, 'kill list'
Government kill list approved by secret committee - Report