Police beat man first, ask questions later - but it's mistaken identity!
The Vancouver Police Department has issued an apology after a man said he was beaten by officers who knocked on the wrong door while investigating a report of a violent domestic dispute.

Plainclothes officers arrived at the right house at 2 a.m. PT Wednesday near Knight and 49th Street in East Vancouver, but they were at the wrong suite, police admitted in a news release Thursday.

Speaking through a translator, Yao Wei Wu told CBC News that as soon as he opened the door the officers pulled him out of the house and beat him.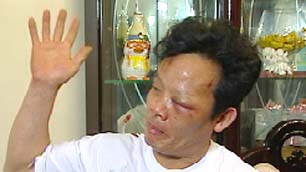 Yao Wei Wu demonstrates what he says happened to him during an encounter with Vancouver police Wednesday morning. (CBC)


He was hit multiple times on the back, head and face, said Yao, 44.

He said he did not resist because the men had guns.

It was only after they handcuffed him and asked his name that they appeared to realize they had the wrong man, Yao said.

The officers then called for an ambulance and a Cantonese-speaking police officer.

Yao was taken to hospital where he said doctors found fractured bones around his eye and multiple bruises on his back.

"A full and thorough internal investigation has been launched into the case of an eastside resident who was injured and arrested in a case of mistaken identity," Const. Jana McGuinness said in a news release.

The officers didn't realize there were two separate residences in the house, McGuinness said.

"The man resisted by striking out at the police and trying to slam the door, but the officers persisted in the belief that there may be a woman and child inside who could be in danger."

The man the police were looking for who lived in the other suite in the house was later found and arrested on suspicion of assault, McGuinness said.

Article from: CBC.ca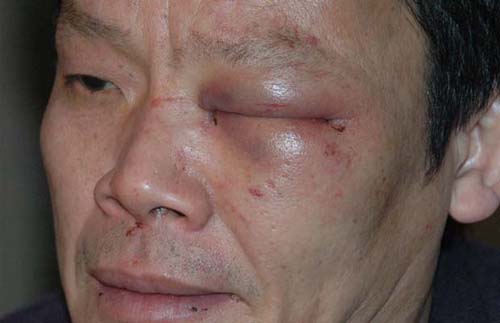 Photo Gallery: Injuries


---



Vancouver police change story on arrest that saw innocent man injured



By Gerry Bellett | VancouverSun.com

Vancouver Police Chief Jim Chu today retracted a statement issued Thursday that an innocent man was injured because he had resisted arrest by police officers investigating a case of domestic violence.

"I want to make it perfectly clear that we do not stand by those statements," Chu said.

Yao Wei Wu, 44, who lives in Southeast Vancouver was confronted at 2:20 a.m. by two plainclothes police officers called to the residence where a woman was being attacked by her husband.

The officers in their haste to help the woman had gone to the wrong basement suite, said Chu.

According to an initial police media release, Wu's injuries came because he "resisted by striking out at police and trying to slam the door."

Chu said the statement was "premature" and an investigation was underway to determine what happened.

On Thursday evening Chu attended Wu's residence and apologized for the injuries and trauma suffered by he and his family.

He also apologized for the initial statement and the "further discomfort this may have caused,"

"We empathize with Mr. Wu and his family. Regardless of the fact we were rushing to the scene for all the right reasons an innocent man was arrested and injured in the process," said Chu.

Another issue to be dealt with is whether the officers identified themselves as police before the confrontation and whether the "force used in the arrest was appropriate," said Chu.

Chu said the investigation is being undertaken on behalf of the Office of Police Complaint Commissioner.

Once the officers discovered they had the wrong man a suspect was arrested and is facing charges.

The two officers involved are on their regular days off.

Chu said police investigators would be meeting with Wu later Friday for more information on the incident.

"I want to say how seriously we are taking this matter and how deeply sorry we are to Mr. Wu for what happened."

CHIEF CONSTABLE JIM CHU'S FULL STATEMENT:

JANUARY 22nd, 2010

Last night I went to the home of Mr. Yao Wei Wu to apologize personally and on behalf of the Vancouver Police Department for the injuries and trauma he and his family have experienced after he became the victim of mistaken identity.

Around 2:20 yesterday morning, our officers went to his residence in response to a domestic assault call. The officers were told the caller was a woman with a baby and that her husband was on scene and was assaulting her.

The officers were initially told this crime in progress was at an address in East Vancouver. Later on, the caller clarified that she resided in the basement suite and the entry was in the back.

So as you can surmise, our two officers arrived at the right address but knocked on the wrong door.

In our initial media release we said that Mr. Wu resisted arrest and was injured in the process.

I want to make it perfectly clear this morning that we do not stand by that statement.

This was information that was premature and released as fact when in reality only the current investigation into the matter can determine the details of what happened.

We regret any further discomfort this may have caused Mr. Wu.

We empathize with the Wu family and how upsetting this incident must be for them.

Regardless of the fact that we were rushing to the scene for all the right reasons, an innocent man was arrested and injured in the process.

We are very sorry for that.

Other police officers arrived at this location and a suspect was arrested in the domestic violence call. We expect charges will be laid in this case.

Our investigation into what happened with Mr. Wu will examine the chain of events including the dispatch call, the issue of whether we properly identified ourselves as police and whether the force used in the arrest was appropriate.

The Office of the Police Complaints Commission will oversee the investigation.

I will say once again in closing, how seriously we are taking this matter and how deeply sorry we are for what happened to Mr. Wu.

THE INITIAL ERRONEOUS VANCOUVER POLICE STATEMENT

Police Apologize

2010-01-21

Vancouver Police have formally and personally apologized to a 44 year old city man who was arrested in a case of mistaken identity.

In the early morning hours of January 21, 2010, two plain-clothes VPD officers were responding to a 911 call of a domestic incident. They were told by dispatch that a woman called to report that her drunken husband was hitting her and she was concerned for the safety of their baby.

The officers responded to a southeast Vancouver home, but didn't realize there were two separate residences in the house. Unfortunately for all involved, they knocked on the wrong door and encountered a middle-aged man who didn't understand English very well and would later say he didn't realize the men at his door were police.

The man resisted by striking out at the police and trying to slam the door, but the officers persisted in the belief that there may be a woman and child inside who could be in danger.

The man was arrested and received minor injuries to his face in the process. Police called for medical assistance and the man was transported to VGH as a precautionary measure. Cantonese speaking officers were also called to explain to the family why the police had made this mistake.

The VPD regrets any inconvenience or trauma this may have caused the family.

In related information, police did respond to the correct suite immediately after, where they met the complainant who said her drunken partner had hit her in the back of the head following an argument and then fled.

Police located the man nearby and arrested him for assault.

Article from: VancouverSun.com