Regime Change: Rebels pick US citizen as Syrian prime minister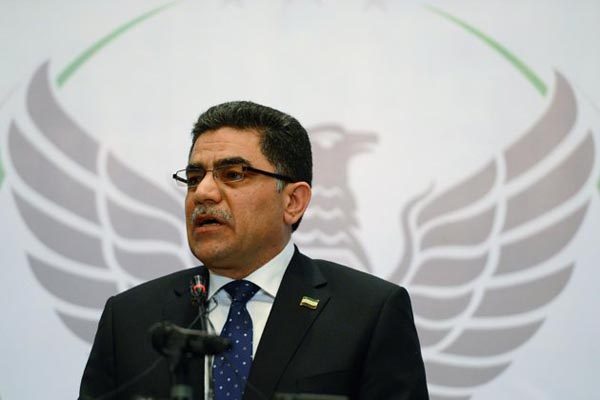 "Ghassan Hitto, the Syrian opposition's newly elected interim prime minister, speaks during a press conference in Istanbul, Turkey, Tuesday, March 19, 2013. Hitto has ruled out dialogue with President Bashar Assad's regime. In a speech in Istanbul following his election Tuesday, Ghassan Hitto says "there is no place" for dialogue with the Assad regime." Source: AP


Associated Press reports:

Members of the opposition Syrian National Coalition elected Ghassan Hitto in a vote early Tuesday to head an administration they hope will provide an alternative to President Bashar Assad's regime and help coordinate the fight against his forces.

"The new government will work from the starting point of complete national sovereignty and the unity of the Syrian land and people, which can only by achieved through continued determination to topple Bashar Assad, his regime and all its pillars," he said in a speech in Istanbul.


There are some in Syria who are expressing their doubts about whether a man raised in the US, having only returned to his country of birth last year, can understand or represent the citizens of Syria. Is this man simply a puppet?


Veteran opposition figure Kamal al-Labwani said he suspected Hitto had been put in place by larger political powers, like Qatar, which has heavily financed the opposition, and the Muslim Brotherhood.

He also said he as a coalition member never got to meet or question Hitto before his election.

[...]

In Washington, State Department spokeswoman Victoria Nuland welcomed Hitto's election, saying the U.S. was aware of his aid work.

"This is an individual who, out of concern for the Syrian people, left a very successful life in Texas to go and work on humanitarian relief for the people of his home country," she said. Source

An alleged chemical attack in Syria has caused the death of 25 people so far, and neither the Assad government nor the rebels have taken responsibility for the action, and instead blame the other.



Western governments and the mainstream networks have been warning for some months about the potential use of chemical weapons by Assad (a claim which he has continually denied), but alternative news sources have provided evidence suggesting the rebels themselves have the materials, capability, and impetus to deploy chemical or biological weapons on civilians. Certainly the dynamic is ripe for outrageous false flag events which lead to large foreign governments being "forced" to invade and occupy in the name of human rights.
This shocking video allegedly shows Syrian rebels testing chemical weapons.

While many forces are at play here, the mainstream doesn't often point out the long history of western involvement in, and sabotage of, foreign governments, including the sale of conventional and chemical weapons, and the implementation and support of puppet regimes.

These combined events lead some to speculate that things will get worse before they get better for the people of Syria.

By Elizabeth Leafloor, Red Ice Creations