Scientists Suggest Dark Matter Played Role in Dinosaurs' Doom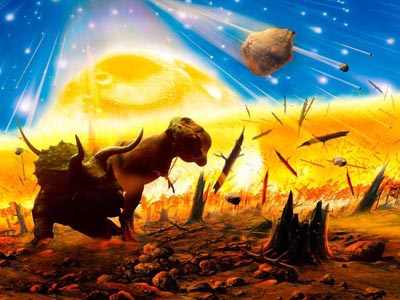 The conventional wisdom is that a cosmic impact caused the extinction of the dinosaurs 65 million years ago — but now two scientists are adding an unconventional twist to the theory: Maybe, they say, dark matter helped.

The hypothesis, set forth in a research paper by Harvard theoretical physicists Lisa Randall and Matthew Reece, blends two of the science world's biggest mysteries: What is behind our planet's waves of mass extinctions? And what is the nature of dark matter, the mysterious stuff that so far has been detected only by virtue of its gravitational effects?

Physicists still haven't figured out what dark matter is, but Randall and Reece suggest that there's a thin, dense disk of the stuff running along the midplane of our Milky Way galaxy. Our solar system traces an up-and-down, wavy motion through that plane as it travels around the galaxy, like a cork bobbing in a lake.



This illustration provides a rough idea about the solar system's up-and-down motion through the galactic plane as it orbits the center of the Milky Way.


When the solar system passes through the disk of dark matter, that could exert enough of a gravitational influence to disrupt the orbits of comets on the solar system's edge. Such comets could become more likely to head into the inner solar system, periodically raising the chances of collision with Earth.

Some astronomers see a rising and falling pattern in the rate of cratering on Earth, tracing a cycle that lasts 25 million to 35 million years. Could extinction-level "storms" of comets account for those periodic rises in cratering? "We conclude that if a dark disk exists, it could play a significant role in explaining the observed pattern of craters, and perhaps even mass extinctions," Randall and Reece say in their paper.

[...]

Read the full article at: nbcnews.com




---
READ:
Scientist argues that volcanoes, not meteorite, killed dinosaurs