Senator Al Franken: from SNL spoofer to State surveillance hawk
Al used to be a funny guy. Now, he's not.

Make no mistake about it, if Bush were president at the moment, Little Al would be attacking him mercilessly.

But with Obama in the White House, Al sings a different tune.

The NSA spying is A-OK. No problem.


"I can assure you, this is not about spying on the American people."

Thanks, Al.

"There are certain things that are appropriate for me to know that are not appropriate for the bad guys to know."

Al, you see, has been briefed. He's bought into those "high-level" briefings. He now resides in a rarefied elite atmosphere. If Senator Al says NSA is good, it must be.

If you believe him, I've got condos for sale on Jupiter.

Al even thinks it's appropriate for the Justice Dept. to investigate Ed Snowden, the NSA leaker. Well sure, Al's Mr. Establishment these days, and Snowden defected.

Al used to have a bullshit detector. Now, bullshit is detecting him as an easy mark.

Who in his right mind would believe a bunch of CIA and NSA guys sitting in a room explaining and justifying their own spying programs?

Is there any chance these cold-fish bureaucrats would do a mea culpa? They're looking for more budget dollars. They're looking to avoid any possible criticisms of their plots and operations. They're professionals paid to lie.

So they're going to paint the war on terror in the most dire terms possible. They're going to tell stories and make it up. They're going to give gullible and grasping senators the impression they're privy to real insider material.

They're going to say, "Now you're in the Club. You know secrets. You know the truth the public must be protected from, because the public would be frightened. But you guys, you senators, you can handle the truth…"

Al's sitting there in the room, and he poised half-way between buying what the intell boys are selling and knowing he wants to protect his president and his party.

It's a sucker's game. Al has gone for it. Willingly.

On SNL, Al, as Stuart Smalley, the pathetic rainbow self-help psycho, used to look in the mirror and say, "I'm good enough, I'm smart enough, and doggone it, people like me."

Well, now Al IS Stuart Smalley, but with a new tough-guy exterior. He's a little man of steel, protecting the nation from the bad guys. He's on the inside, with the big boys. And they like him.

[...]

Read the full article at: jonrappoport.wordpress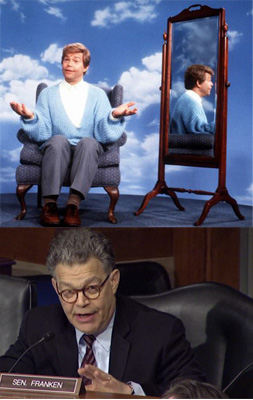 ---


SEE: Al Franken Defends National Security Agency Over Spying Allegations ( Click for VIDEO)




---
Franken Vs. Franken On NSA Surveillance
---

Radio 3Fourteen:

Jon Rappoport - The Artist Against the System