South African Leftists Driven off Farm by "Refugees"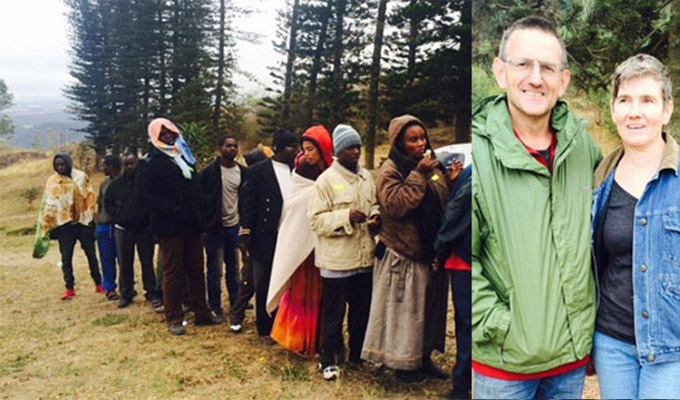 According to a report in local media News24, the two leftists, Andrew and Rae Wartnaby, have been threatened with murder by the same people they had set out to help.

The drama began in July 2015 when the Wartnabys "opened their 20-hectare farm to 143 foreign nationals, including children," who were displaced during "xenophobic attacks" by South African blacks upon other black illegal immigrants from central Africa.

South Africa—which still is living on the declining remnants of the white-created infrastructure and economy—is an attractive option for central Africans, as it is far more advanced than their own self-created hellholes. Hundreds of thousands have poured across the borders, and local blacks have been incited against them, under the impression that they are going to compete for the rapidly declining number of "jobs" which the white population can provide.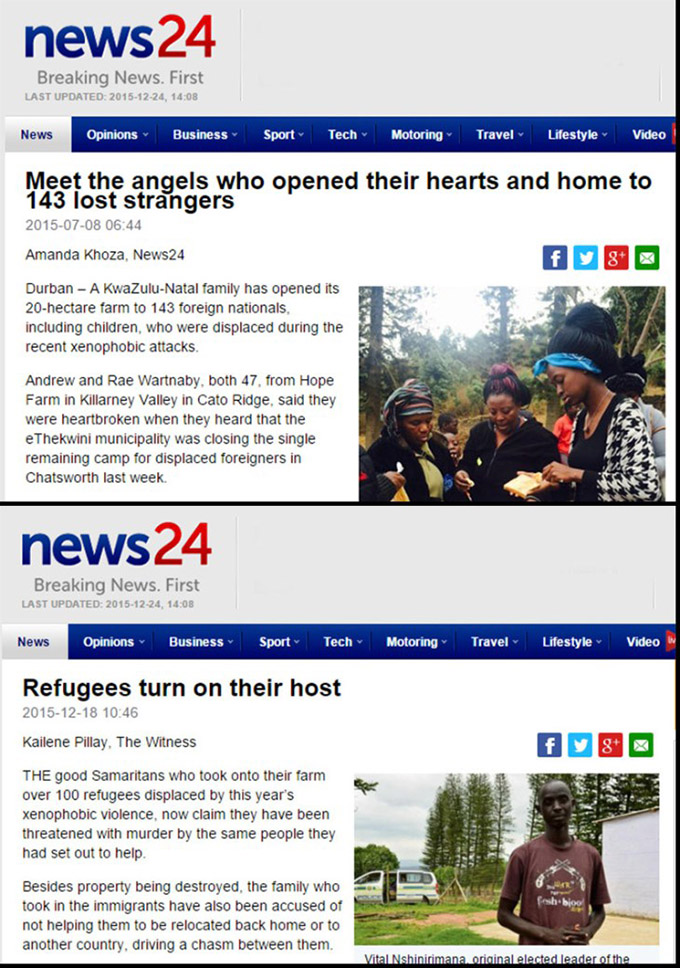 According to an article in News24 at the time, the Wartnabys said they were "heartbroken" when they heard that the local municipality was closing the single remaining "refugee" camp in the area.

"The couple's hearts sank further when they heard that foreigners had been arrested and separated from their children on Friday after illegally occupying the camp," the original News24 article continued.

After persuading the authorities not to prosecute the arrested blacks, the two leftists decided they had enough space on their farm to house the central Africans, mostly from the Democratic Republic of Congo and Burundi.

"We just have a heart for children," Rae Wartnaby said. "I wanted to go to Durban and help, but God said to me that I should not get involved now. He said we must wait and he would need us in the end."

The central Africans were given housing, food and clothing by the Wartnabys, helped by the "Gift of the Givers, the South African Council of Churches, Islamic Relief and various churches."

The Wartnabys were widely praised in the South African media and described as "good Samaritans" and "angels" who were examples of how "tolerance" and "understanding" could work.

Now, five months later, the Wartnabys have had to flee their own farm. The ungrateful Africans have utterly destroyed the property and have also accused the Wartnabys of "not helping them to be relocated back home or to another country,"—in other words, not giving them enough money, passports, or the ability to go back home, as if this were their responsibility in the first place.

The Africans attacked their home in the early hours of the morning last week, and threated to kill Andrew. He told News24 that they had cut and broken down the fence around the house, and then, "in the early hours of the morning, at around 2 a.m., they came smashing on my windows and doors and saying that they will kill me because I work for the government and I am not helping them."

He said that as he looked through a window, he saw the tent at the group's camp engulfed in flames. "I immediately asked if everyone is okay but they kept shouting that tonight was my night and they will kill me. I haven't slept since then.

"When we took everyone in, we said we would try and help, which we have. But they feel like it has been too long and we let them down. I have asked that group to leave my farm, but they refuse to and to be honest, I don't know what is going to happen. All I know is that I don't want to be murdered tonight," said Andrew.

The Africans are still in control of the farm at time of writing, and the leftist whites, who might or might not have learned their lesson, are in hiding.

Source: newobserveronline.com