Spain's Prime Minister Accused Of Receiving Illegal Cash Payments As Corruption Scandal Widens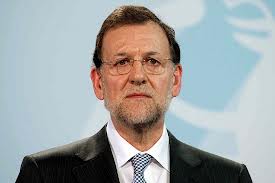 A corruption scandal blew up in Spanish Prime Minister Mariano Rajoy's face over the past few days, sending the stock market down in a crash as bond yields surged dramatically. As opposition leaders call for his head, Rajoy rejected accusations that he and other top members of the Popular Party (PP) received illegal cash payments, promising to post his tax returns online so that "truth may prevail." It appears unlikely that the so-called Gurtel Scandal will force Rajoy out, but the return of political rumblings have unsettled markets after months of relative calm, raising fears that the European sovereign debt crisis might flare up once again.

"Never, and I repeat, never have I received, nor distributed black money," Rajoy said last Saturday, responding to accusations that he had formed part of a corruption ring that received money from a construction company in exchange for public contracts.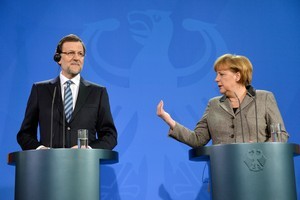 Mariano Rajoy with Germany's Angela Merkel at a press conference in Berlin on Monday

The scandal, uncovered by Spanish daily El Pais over the past few days, bulldozed market confidence in Madrid, sending the stock market down nearly 4% on Monday. After months of continued improvement, Spanish bond markets deteriorated as well, with the yield on 10-years jumping dramatically to 5.44%, hitting its highest levels since mid-December.

Rajoy referenced the case again Monday in Berlin, where he was meeting German Chancellor Angela Merkel, saying "everything that refers to me […] is totally and absolutely false." The Prime Minister has found himself tied to a corruption scandal that involves the PP's former national treasurer, Luis Barcenas, who has reportedly stashed €22 million ($30 million) in a Swiss bank.

[...]

Read the full article at: forbes.com