Stanford team creates transparent brain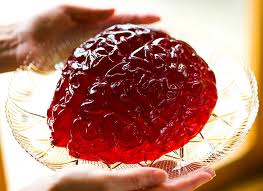 Stanford researchers have turned a dreary gray brain into an object as transparent as apricot Jell-O -- an approach that will reveal new secrets into the most mysterious of organs.

The process, called CLARITY, transforms the brain's tissue by replacing opaque fat with a clear gel, creating a limpid organ with all of its essential circuitry intact and in place.

"Brain tissue is very dense," said researcher Kwanghun Chung. "We have developed a technique that makes tissue transparent ... so we can visualize the architecture, necessary to understand the function of the complex organ."

The technique ushers in a new era of whole-organ imaging, offering hope for improving the study of such devastating neurological disorders such as autism, schizophrenia, Alzheimer's disease and Parkinson's disease.



It was conceived by a team led by bioengineer and psychiatrist Dr. Karl Deisseroth, one of the 15 experts on the "dream team" that will map out the goals for the $100 million brain research initiative announced April 2 by President Obama.

"This feat of chemical engineering promises to transform the way we study the brain's anatomy and how disease changes it," according to a prepared statement by Dr. Thomas Insel, director of the National Institute of Mental Health.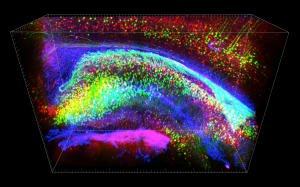 Three-dimensional view of stained hippocampus showing fluorescent-expressing neurons (green), connecting interneurons (red) and supporting glia (blue).



[...]

Read the full article at: mercurynews.com