Take a Virtual Tour of the Sistine Chapel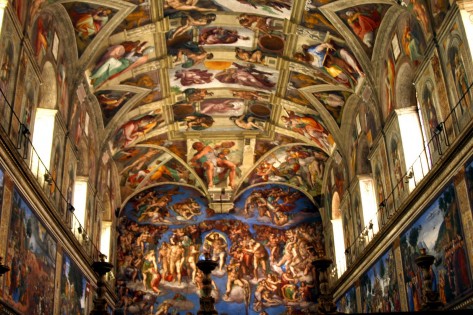 Can't travel to the Sistine Chapel? No worries! You can take a virtual tour of it online

For those of you who always wanted to see the Sistine Chapel, with its famous artwork, but can't afford to go, now you can take a virtual tour of it online at the Vatican's website.

When you get to the site, and click on "Enter," beautiful music surrounds your experience. You can zoom in on the art, especially the rear wall, which shows "The Last Judgment" by Michelangelo,who painted it in 1539, when he was 87 years old. The experience was put together in collaboration with Villanova University in Pennsylvania.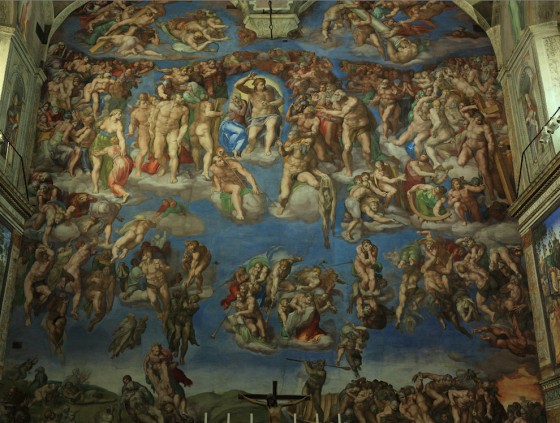 The angels in the middle blow their horns to raise the dead. One of them holds the Book in which all has been written down and upon which Jesus will base his judgment.

To the left, the chosen are escorted to Heaven by angels. To the right, the damned are going to Hell. Michelangelo was inspired by Dante's Inferno. Charon (with oar) and his devils are leading the damned to judge Minos (with snake).

Jesus is seated in the middle with his mother Mary at his side.

[...]

Last November marked the 500th anniversary of the building of the Sistine Chapel, and from History.com, here are seven things you may not know about the Sistine Chapel:

1. Michelangelo wanted nothing to do with the Sistine Chapel's ceiling.
In 1508, 33-year-old Michelangelo was hard at work on Pope Julius II's marble tomb, a relatively obscure piece now located in Rome's San Pietro in Vincoli church. When Julius asked the esteemed artist to switch gears and decorate the Sistine Chapel's ceiling, Michelangelo balked. For one thing, he considered himself a sculptor rather than a painter, and he had no experience whatsoever with frescoes. He also had his heart set on finishing the tomb, even as funding for the project dwindled. Nevertheless, Michelangelo reluctantly accepted the commission, spending four years of his life perched on scaffolding with his brush in hand. He would return intermittently to Julius' monumental tomb over the next few decades.

2. Contrary to popular belief, Michelangelo painted the Sistine Chapel in a standing position.
When they picture Michelangelo creating his legendary frescoes, most people assume he was lying down. But in fact, the artist and his assistants used wooden scaffolds that allowed them to stand upright and reach above their heads. Michelangelo himself designed the unique system of platforms, which were attached to the walls with brackets. The impression that Michelangelo painted on his back might come from the 1965 film "The Agony and the Ecstasy," in which Charlton Heston portrayed the genius behind the Sistine Chapel's ceiling.

3. Working on the Sistine Chapel was so unpleasant that Michelangelo wrote a poem about his misery.
In 1509, an increasingly uncomfortable Michelangelo described the physical strain of the Sistine Chapel project to his friend Giovanni da Pistoia. "I've already grown a goiter from this torture," he wrote in a poem that was surely somewhat tongue-in-cheek. He went on to complain that his "stomach's squashed under my chin," that his "face makes a fine floor for droppings," that his "skin hangs loose below me" and that his "spine's all knotted from folding myself over." He ended with an affirmation that he shouldn't have changed his day job: "I am not in the right place—I am not a painter."

Read the full article at: goddiscussion.com