The Dark Side of Mother Teresa?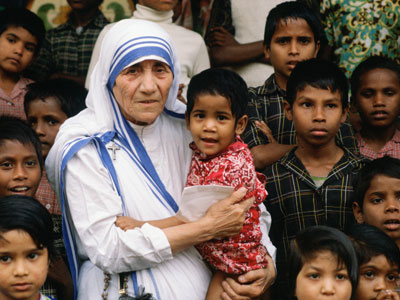 Mother Teresa's saintly image comes under fire in new study

How has the saintly image of Mother Teresa managed to survive largely intact in this age of such intense media scrutiny?

Three Canadian academics tackled this thorny question in a new article in the journal Studies in Religion

"Everyone who thinks of altruism thinks immediately of Mother Teresa," says Geneviève Chénard, explaining why she and her co-authors decided to undertake this study.

The researchers — Chénard and Serge Larivée of l'Université de Montréal and Carola Sénéchal of the University of Ottawa — examined 287 documents about the Albanian nun who died at age 87 in 1997.

Mother Teresa, who founded the Kolkata-based Missionaries of Charity, an order of nuns that has expanded to 123 countries, has been beatified by the Vatican, one step short of sainthood.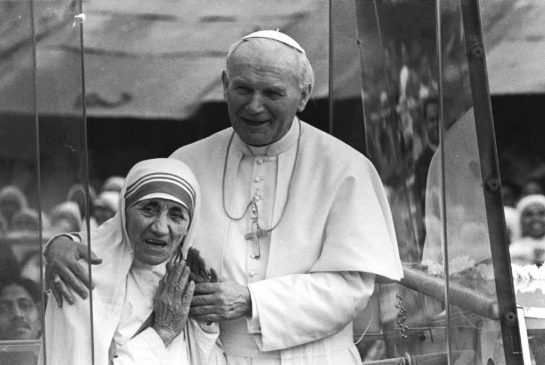 Mother Teresa with Pope John Paul II at the Home of the Dying in Calcutta, India, in February 1986.


According to the study, the unassailable image of Mother Teresa appeals to the collective imagination looking to help the dying and the poor. It feeds a need in people to have someone to look up to. For the church, it also helps promote Roman Catholic religious values.

Mother Teresa's beatification process was also the fastest in the history of the Catholic Church, the study says.

One of the key steps in that beatification: A non-Christian woman in India woke up on the first anniversary of Mother Teresa's death to find her abdominal tumour had disappeared. Members of the Missionaries of Charity has prayed for Mother Teresa's help. Pope John Paul II recognized this as a miracle.

Mother Teresa, awarded the Nobel Peace Prize in 1997, has been the subject of 153 hagiographies from 1948 until 2011 and only six balanced biographies, the study says.

Largely unexamined have been questions about how millions in donations were spent, the hygiene and lack of care in her hospices and why the woman herself supported corrupt regimes such as the Duvaliers in Haiti.

[...]

Read the full article at: thestar.com





---

AntiTheist and journalist Christopher Hitchens (1949-2011) investigates whether Mother Teresa of Calcutta deserves her saintly image. He probes her campaigns against contraception and abortion and her questionable relationships with right-wing political leaders.